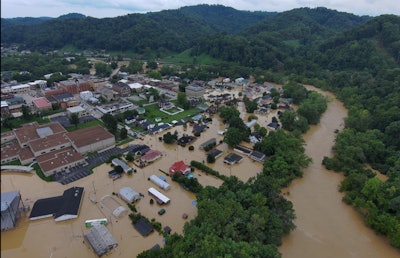 In response to this week's record flooding, Kentucky Transportation Secretary Jim Gray has issued an order to exempt some truckers from hours of service regulations.
The order applies to commercial vehicles actively engaged in relief efforts. It exempts drivers from limits on hours of driving and having to stop at weight stations if they are delivering fuel and other needed supplies or engaged in debris removal and restoration of power. It also exempts the vehicles from fees for overweight/over-dimensional permits.
Gray's order follows a state of emergency declared by Gov. Andy Beshear on Thursday, July 28.
The exemptions will remain in effect through 12:01 a.m. EDT on Aug. 15.
To ensure the safety of the traveling public, contracted drivers must comply with safety requirements and have a copy of the order in their vehicles.
At least 16 people are dead, and the toll is "going to get a lot higher" following flash flooding in Kentucky, Gov. Andy Beshear said Friday.
According to the Kentucky Transportation Cabinet, "There are at least 28 reported road closures in Highway Districts 10, 11, and 12 at this time. These closures are due to rock/mudslides, water over roads, and infrastructure damage. Bridge inspectors and engineers are on-site to assess affected roads and bridges, though some cannot be reviewed until water recedes. Crews continue the clean-up process and are clearing debris."