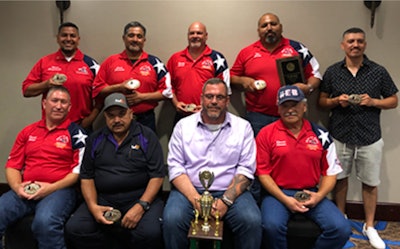 TXTA
Truckers for H-E-B dominated the recent Texas Trucking Association's state Truck Driving Championships, but it was a FedEx Freight driver who was named grand champion.
Dennis Mace, was the competition's grand champion and also won the straight truck category. He drives for FedEx Freight.
Winners in all of the categories include:
3 Axle: David Urrea IV, HEB
5 Axle: Mario Gonzales, Jr., HEB
4 Axle: Eduardo Camacho, HEB
Tanker: Randy Gamez, Jr., HEB
Flatbed: Noe Gomez, HEB
Sleeper: Robert Gonzalez, FedEx Freight
Straight Truck: Dennis Mace, FedEx Freight
Twins: Ronald Ramon, HEB
Step Van: Luis Tarin, FedEx Ground
Winners qualified for the National Truck Driving and Step Van Championships to be held Aug.16-19 in Indianapolis.