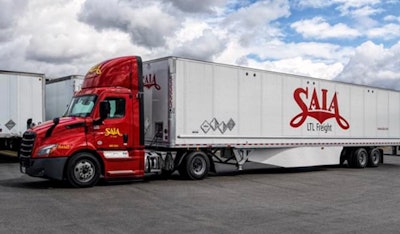 Saia
Saia Inc. announced today that Saia LTL Freight has opened a new terminal near Binghamton, New York. The new facility is the fifth for Saia in the state and is situated to provide customers with enhanced service in the region, and throughout the carrier's network, as the company continues to fill in geography.
"As we've said, getting closer to our customers to provide higher levels of service is an important part of our value proposition," said Vice President of Operations, East Jared Mull. "The support of both our operations and sales teams has helped to make our expansion strategy across the region and the country a tremendous success."
In the second quarter alone, Saia opened four new terminals, in new markets. Year-to-date, the company has opened a total of six facilities including Binghamton. Through the latter half of the year, an additional seven to 10 new terminals are slated to open.
"Not only have we seen a tremendous response from existing customers, shippers who are asking us to handle their freight needs in these markets, we also are growing our customer base as new businesses hear about us and our service," Mull said. "Our brand is strong because of our commitment to putting the customers' needs first."
Saia continues to recruit both city and line drivers for the Binghamton terminal as well as for other facilities located in the state. The company currently operates its Driver Academy program at 10 locations throughout its network and in some areas has partnered with technical colleges and truck driving schools in an effort to fill open positions.
With headquarters in Johns Creek, Georgia, Saia LTL Freight operates 182 terminals across the country.
GP Transco offers online earnings calculator
Illinois-based trucking company GP Transco recently debuted an online earnings calculator for owner-operators designed to provide information on how much they can earn each week.
Owner-operators input the number of desired weekly miles into the calculator, then the tool instantly provides the expected rate-per-mile, weekly revenue, and gross weekly earnings, according to a statement from the company.
The calculator factors in real-time national fuel prices from eia.gov, national average semi truck MPG, and the current GP Transco owner-operators' rate-per-mile to provide users with the most accurate and up-to-date earnings information.
The calculator also allows users to compare the GP Transco rate-per-mile and weekly take-home pay to current national averages provided by DAT Freight & Analytics.
You can calculate your expected earnings with GP Transco here.
Michigan community college adds CDL program
Washtenaw Community College in Ann Arbor, Michigan is partnering with Trainco Truck Driving Schools to offer a new CDL-A training program..
The three-week program paves the way to a CDL license. The first three-week class begins Sept. 6. Subsequent classes begin Sept. 26, Oct. 17 and Nov.r 28.
WCC will host both the classroom component and behind-the-wheel driver training on campus.
Trainco's most popular offering is its Full CDL Class A Program. This complete tractor-trailer training program prepares participants for the CDL driving exam and provides an entry into the trucking industry.
ICYMI
Writer/director relied on truckers to create gritty 'Paradise Highway'
Nominations for Pilot's Road Warrior contest open Monday, Aug. 1
Thinking of changing jobs? What size fleet would you prefer?
Virtual Pride & Polish truck show competition now accepting entries