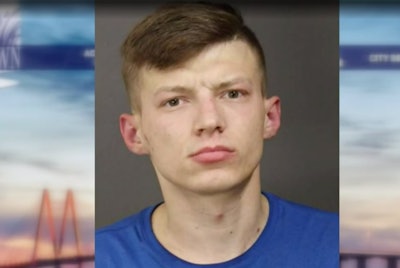 A jury in Concord, New Hampshire Tuesday found a truck driver innocent of causing the deaths of seven motorcyclists in a 2019 collision in northern New Hampshire.
Volodymyr Zhukovskyy, 26, of West Springfield, Massachusetts, was found innocent on seven counts of manslaughter, seven counts of negligent homicide and one count of reckless conduct in connection with the June 21, 2019, crash in Randolph, New Hampshire.
Jurors deliberated for less than three hours after a two-week trial during which prosecutors argued that Zhukovskyy — who was said to have taken heroin, fentanyl and cocaine earlier on the day of the crash — repeatedly swerved back and forth before the collision and told police he caused it. But a judge dismissed eight charges related to whether he was impaired, Zhukovskyy's attorneys blamed the lead biker, Albert "Woody" Mazza Jr., saying he was drunk and not looking where he was going when he lost control of his motorcycle and slid in front of Zhukovskyy's truck.
Mazza was one of 10 members of the Jarheads Motorcycle Club riding on Route 2 in the town of Randolph, New Hampshire when the crash occurred.
Zhukovskyy, who was born in Ukraine, is reported to have remained jailed as of late Tuesday afternoon. It is unclear when he might be released. U.S. Immigration and Customs Enforcement issued an immigration detainer on him after the crash and that was executed following the verdict. ICE said in a statement that Zhukovskyy has been served a notice to appear before an immigration judge and will remain in ICE custody pending the outcome of that appearance. It did not say where he is being held.
at the time of the crash, Zhukovskyy was driving a pickup and trailer for Westfield Transport Inc. Westfield Transport closed soon after the fatal crash.