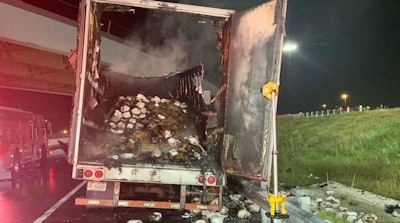 Seminole County Fire Department.
On Thursday, an 18-wheeler carrying 10,000 frozen turkeys caught fire in the westbound lanes of Interstate 4 near Sanford in Central Florida, according to the Seminole County Fire Department.
Fire crews said no one was injured.
Pork rind maker to donate $7,500 to trucker releif fund
In Southern Recipe's Annual Truck Driver Appreciation Week campaign, the brand will once again support St. Christopher Truckers Relief Fund with a $7,500 donation. Bringing awareness to the often under-celebrated truck driving community has been a passion of Southern Recipe's for more than a decade.
Southern Recipe's Truck Driver Appreciation Week celebration invites fans to enter to win weekly prize packages, all featuring food and non-food items that could be found in the cab of a truck. The conversation around each prize goes beyond the traditional prize pack, with items carefully selected from actual truck drivers who have a passion for the road. In doing so, the brand hopes to bring the community closer to the people behind the wheel, and truck drivers closer to the brand's consumers
"There's not a day that goes by that we take our truck drivers for granted. In the midst of a challenging time for many industries, they're still moving forward and keeping our grocery stores stocked," said Mark Singleton, vice president of Sales and Marketing at Southern Recipe and Rudolph Foods. "We've been celebrating these important road heroes for more than a decade now, with the help of our incredible charity partner: St. Christopher Truckers Relief Fund. These men and women literally help fuel our families with food and comfort."
Members of the trucking community and consumers across America are encouraged to celebrate Truck Driver Appreciation Week with Southern Recipe and SCF across the social space at SouthernRecipe.com and @SouthernRecipe.
ICYMI
Committee sends truck parking legislation to entire House
Nominations for Pilot's Road Warrior contest open Monday, Aug. 1
Virtual Pride & Polish truck show competition now accepting entries
Poll: What's the smartest thing to do for your trucking career?