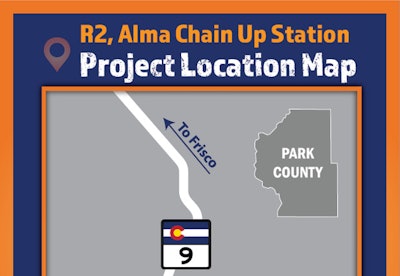 The Colorado Department of Transportation will soon begin creating two chain-up stations along Colorado Highway (CO) 9 near Alma and CO 285 near Grant.
The first phase of work will begin on CO 285 near Grant. The chain-up station locations will be in close proximity to the locations where the chain law will be in effect.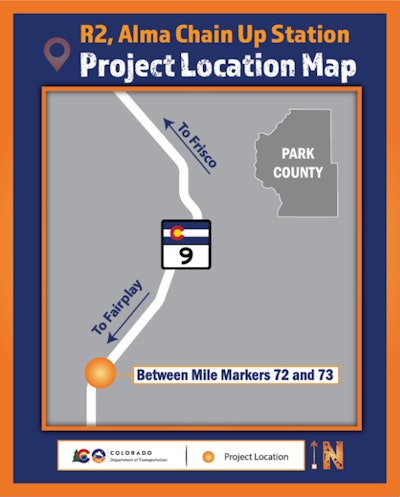 The locations are:
Grant Chain Station, southbound CO 285 from MP 208.8 to 209.4
Alma Chain Station, northbound CO 9 from MP 72.1 to MP 72.7
"CDOT places a high priority on highway projects that help our commercial trucks drive safely along key corridors like CO 9 and 285," said Shoshana Lew, executive director of CDOT. "It is critical that trucks chain up in winter events when Colorado's chain law is enforced. Chain up stations provide a safe place for drivers to fit snow chains onto (or off) their truck tires."
The project will create a safe pullout location off the roadway for truckers and travelers to put chains on when the chain law is in effect. The chain stations will make it easier for truckers and travelers to comply with the law during icy and snow-packed conditions. Advanced warning signs and adequate lighting will be installed to improve visibility and wayfinding for the drivers. The addition of the chain-up stations will allow CDOT maintenance workers to concentrate on snow removal operations instead of mobilizing equipment to move stranded vehicles that have lost traction out of the way of traffic.
Travelers will encounter construction operations Monday through Friday, from 7 a.m. to 7 p.m. The majority of the work will be performed off the roadway in the shoulder. Occasionally flaggers will be necessary to guide motorists through the construction zone. Their project will have a winter shutdown period.
Amtrak train strikes tractor-trailer in California
No injuries were reported when an Amtrak train struck a tractor-trailer stopped on tracks in Vacaville, California Tuesday afternoon.
Witnesses reported that the train struck the front of the truck.
Amtrak officials told The Reporter the Amtrak passenger train was traveling from Sacramento to San Jose at the time of the collision.
The train is said to have carried 115 passengers and crew.
After an approximate two-hour delay, the train continued on to its destination.
ICYMI
Virtual Pride & Polish truck show competition now accepting entries
Thinking of changing jobs? What size fleet would you prefer?
FedEx Freight driver wins Texas driving grand championship
Writer/director relied on truckers to create gritty 'Paradise Highway'