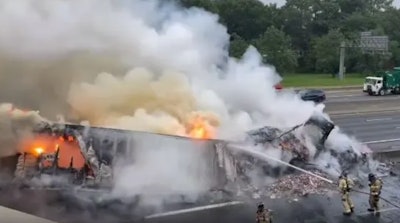 Charlotte Fire Department
A tractor-trailer hauling beef and produce caught fire and burned on northbound Interstate 77 near the John Belk Freeway Charlotte, North Carolina Tuesday morning, according to the Charlotte Fire Department.
The incident started just before 7:30 a.m.
The driver suffered burns on his lower extremities and was cited for failure to maintain lane control, according to the North Carolina State Highway Patrol.