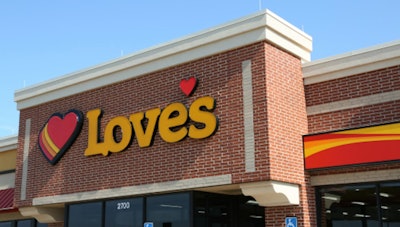 Love's Travel Stops today announced it has donated $100,000 to the St. Christopher Truckers Development and Relief Fund, This is the third year the company has given to the organization that helps professional truck drivers and their families during difficult times, according to a statement from the company.
"Professional truck drivers are essential to the country's success, and Love's can't think of a better way to say 'thank you' than supporting them during difficult times,'' said Jenny Love Meyer, executive vice president and chief culture officer of Love's. "St. Christopher is a great organization that helps drivers every day, and we're glad to continue to support the organization."
Love's first donated to St. Christopher in April 2020 when the company gave $100,000 to help drivers during the coronavirus pandemic. The relief fund helps with expenses like rent, mortgage, utilities, insurance and vehicle payments, as well as provides free health and wellness programs for drivers.
"The support St. Christopher Fund provides for professional drivers is possible because of the generosity of companies like Love's Travel Stops," said Shannon Currier, director of philanthropy for St. Christopher. "We greatly appreciate Love's commitment to help us be a safety net for drivers when they need it most."
Truckers needing assistance can apply online.
J.B. Hunt contributes to University of Arkansas business school
J.B. Hunt Transport Services Inc. recently announced the Sam M. Walton College of Business program for studying supply chain has officially been renamed the J.B. Hunt Transport Department of Supply Chain Management.
To extend support of their continued collaboration, J.B. Hunt also announced a new $1.5 million commitment to Walton College that will help enhance the development of the J.B. Hunt Transport Department of Supply Chain Management. Since 2017, J.B. Hunt has gifted $7 million to the University of Arkansas to advance innovative, supply chain-focused initiatives, with $5 million of that dedicated to enabling Walton College's top-ranked supply chain program over the past two years.
"J.B. Hunt and the University of Arkansas are shaping the future of supply chain, not just in Northwest Arkansas, but across the country," said Shelley Simpson, president of J.B. Hunt. "Together, we are preparing future leaders who will grow with the industry to meet evolving supply chain challenges. This will help us achieve our mission of creating the most efficient transportation network in North America, and ultimately the world."
J.B. Hunt and Walton College have worked closely together since the department was established, beginning with the J.B. Hunt Supply Chain University in 2014.
ICYMI
New Duck Thru truck stop opens in North Carolina
Salt Lake City reefer carrier Pride Transport raises driver pay
Annual brake inspection blitz looms; here's what they'll look for
Need for drivers, consumer demand helped push up trucker pay last year
Take a Look at This