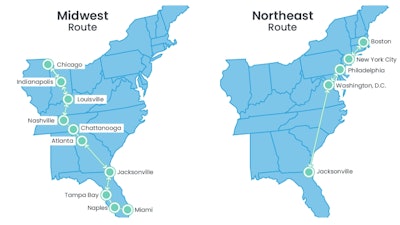 In response to increased demand for its specialized delivery services, William C. Huff Companies, based in Naples Florida, has added bi-monthly scheduled temperature-controlled shuttles to Chicago and other locations in North America. The first shuttle runs are set to begin next month.
"There are 1,500 people per day moving to southwest Florida," said owner and CEO Jim Henderson. "Many families and clients have art, wine, and other invaluable items that simply need to stay in a temperature and climate-controlled environment. We are extremely proud that we were able to make the investment in trucks and staff, to fulfill this request for our loyal and wonderful clients."
The company said it uses the latest technology to create the specified climate conditions, reducing the chance for irreparable damage to cargo.
A statement from the company said its temperature-controlled trucks include large access entry for sensitive equipment and cargo, air-ride technology, 4,500 pound-rated lift gates, in-truck environmental condition tracking with verifications to support warranties, and reduced cargo insurance risk.
A. Duie Pyle once again honored by 'Logistics Management'
West Chester, Pennsylvania-based A. Duie Pyle has been named a recipient of the 39th Quest for Quality Awards. Pyle has been recognized for its excellence by Logistics Management for 33 years in a row. This year, Pyle was ranked first in the Northeast/Mid-Atlantic Regional LTL Carriers category.
The Quest for Quality Awards are measures of customer satisfaction and performance. Recipients of the awards were determined based on a survey by Logistics Management readers. Survey participants graded carriers and service providers based on who they use and who they believe has best delivered quality service. The recipients are also graded based on customer service, on-time performance, value, IT, as well as equipment and operations.
"Every year, we set the bar high for customer service goals and then strive to meet and surpass these initiatives. Being recognized as the top LTL carrier in the Northeast by Logistics Management is a testament to the hard work the Pyle team puts in to improve quality throughout our organization year after year," said John Luciani, COO of LTL Solutions at Pyle. "It's an honor to be recognized by the shipping community, and we sincerely appreciate their vote of confidence year after year."
ICYMI
Tell us how you define 'good' home time
Annual brake inspection blitz looms; here's what they'll look for
47,000 Peterbilt, Kenworth trucks recalled for steering gear issue
Driven by fuel prices, trucking costs set new record in 2021