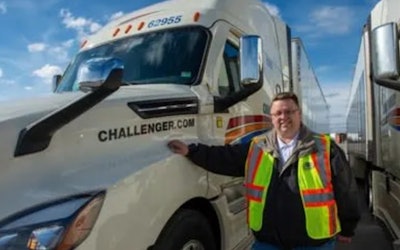 A major Canadian carrier has teamed with an Arizona technology company to offer drivers a smartphone app that delivers sleep education including voluntary screening for sleep apnea.
Challenger Motor Freight is offering its drivers Resonea's DROWZLE smartphone app, which provides drivers an easy way to assess the risk of sleep apnea with an overnight breathing analysis, according to the company. It also provides tips on improving sleep habits and healthy living.
"Driver satisfaction and safety remain top priorities for Challenger and are one of the major reasons we have been frequently selected one of the top fleets to drive for by the Truckload Carriers Association," said Steve Newton, Challenger's director of safety.
Trucking organizations, carriers deliver water to Mississippi and Georgia
The American Trucking Associations' Trucking Cares Foundation, along with Trucking Moves America Forward have marshaled industry resources to deliver water to residents of Jackson, Mississippi and to Northwest Georgia who have been without fresh drinking water as a result of recent flooding.
Trucks from J&M Tank Lines and Yellow Corp. joined ATA's Share the Road Truck and America's Road Team driving Interstate One with ATA's Louisa Swain trailer as part of an effort to deliver seven loads of fresh water to more than 150,000 city residents who have been under orders not to drink water following severe flooding in the region. In addition, the industry has raised more than $30,000 to fund ongoing relief efforts.
ATA also delivered three truckloads of water to Northwest Georgia which has been stricken by flooding.
Schneider named a Best Employer for Women by Forbes
Schneider, a multimodal provider of transportation, intermodal, and logistics services based in Green Bay, Wisconsin, has been recognized as a Best Employer for Women in 2022 by Forbes.
Forbes identified the Best Employers for Women by conducting an independent survey from a sample of 50,000 U.S. employees – 30,000 of whom are women – working for companies employing at least 1,000 people in the U.S.
"We're thrilled to be recognized once again as a leading employer for women by Forbes," says Schneider Executive Vice President of Human Resources Angela Fish. "Our hard work is paying off; we've steadily increased our number of women drivers year-over-year."
Women make up 10% of Schneider's drivers and 41% of leadership roles across the organization, according to a statement from the company.
ICYMI
7,912 trucks and 2,051 drivers placed out of service in U.S. during 3-day Roadcheck
Record bust nets $11.9 million of meth at Texas border crossing
Autocar delivers first electric terminal tractor to major carrier
Appreciation Week Roundup: Load board honors truckers with Guinness World Record
Take A Look At This