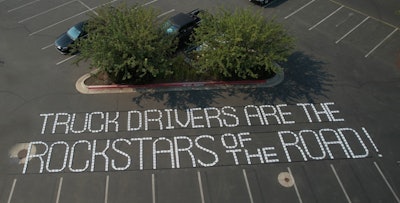 Truckstop set a new Guinness World Records title for the largest toy truck sentence in celebration of National Truck Driver Appreciation Week, Sept. 11-17.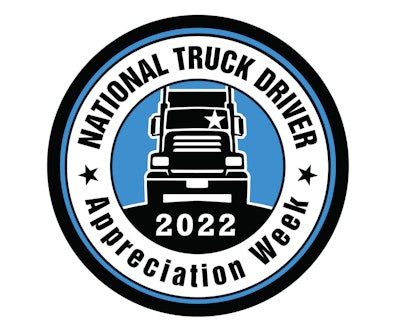 Using 2,098 branded big rig toy trucks, Truckstop spelled out, "Truck drivers are the rockstars of the road!" at their Boise, Idaho office recently.
"Truck drivers are the backbone of America," said Kendra Tucker, chief executive officer ofTruckstop. "We wanted to do something big to show how much we appreciate them, and there isn't anything much bigger than setting a Guinness World Records title. We appreciate the long hours and sacrifices truck drivers make. They truly are the rockstars of the road."
The largest toy truck sentence stretched more than 65 feet wide and almost 14 feet tall and took more than 30 Truckstop employees to accomplish.
The toy trucks will be donated to Western Idaho Community Action Partnership, a non-profit serving several counties in Idaho since 1965. Their programs serve community members of all ages, and the toy trucks will be donated to local children in need ahead of and during the holiday season.
For more information about how Truckstop is celebrating National Truck Driver Appreciation Week, visit https://truckstop.com/rockstars.
TA Petro plans numerous activities, giveaways
TravelCenters of America will honor truck drivers during National Truck Driver Appreciation Week with discounts, prize opportunities, and giveaways to let drivers know they are recognized, valued, and appreciated.
As TA marks its 50th anniversary, this year's celebration will include 50th-themed promotions and prizes.
Activities include daily instant-win games for prizes, including merchandise and coupons for use in the restaurants, stores and TA Truck Service. TA will also hold activities at individual sites throughout the week next week, which will include games, complimentary windshield washing and other initiatives to show appreciation for drivers.
Additionally, TA will host the Truckers Against Trafficking Freedom Drivers Project with Bridgestone Tires at TA Knoxville, Tennessee, on Sept.13, and an event with Arkansas Trucking Association at Petro North Little Rock, Arkansas, on Sept. 15.
TA Petro is also hosting a special appreciation promotion on its website beginning today, Sept. 12.
Free lunch at Truck World
One truck stop chain is showing its appreciation of truckers next week with free food.
From Monday, Sept.12, through Wednesday, Sept. 14, truckers can enjoy a free lunch at three participating Truck World locations.
Conneaut (780 State Route 7, Conneaut, Ohio)
Hubbard (6985 Truck World Boulevard, Hubbard, Ohio)
North Jackson (12700 Leonard Parkway, North Jackson, Ohio)
The company says that the driver appreciation celebration will also include games, T-shirt giveaways and double loyalty points.
Sheetz lowers diesel prices
Sheetz, a major Mid-Atlantic restaurant and convenience store chain based in Altoona, Pennsylvania, announced it will celebrate Truck Driver Appreciation Week by reducing diesel fuel prices to $4.49 a gallon.
The decreased diesel fuel prices started Sept. 5 and will extend through Sept. 30. The price will be reduced at all 654 Sheetz stores that offer diesel fuel pumps.
Sheetz will further show its appreciation by offering truck drivers a free meal including their choice of any half Made-to-Order(R) sub, bag of fryz and any size self-serve coffee or fountain drink. To redeem the offer, truck drivers should enter "TRUCKYEAH" through the Sheetz Mobile App which will be offered starting Sept. 11, through Sept. 30.
The company operates stores throughout Pennsylvania, West Virginia, Virginia, Maryland, Ohio, and North Carolina.
Love's giving away 23.5 million My Love Rewards points
Love's Travel Stops is celebrating National Truck Driver Appreciation Week throughout September. The company is giving away 23.5 million My Love Rewards points (worth more than $230,000) to professional truck drivers during the month, including hundreds of daily and weekly winners and a 1-million-point winner at the end of the month.
Each time drivers swipe their My Love Rewards card during the month of September, they will be entered for a chance to instantly win 1,000 or 2,000 My Love Rewards points. Thousands of instant winners will be selected daily. They will also be entered for a chance to win weekly My Love Rewards points and a grand prize of 1 million My Love Rewards points at the end of the month. Winners will be notified by email.
My Love Rewards Points weekly giveaway:
Sept. 16 one customer will win 500,000 MLR points ($5,000 retail value)
Sept. 23 one customer will win 750,000 MLR points ($7,500 retail value)
Sept. 30 one customer will receive a grand prize of 1,000,000 MLR points ($10,000 retail value)
Free fuel giveaway
Trucker Path, The Trucker Media Group, Sheetz and Kwik Trip/Kwik Star are staging a Free Fuel Sweepstakes in support of National Truck Driver Appreciation Week. Twenty fuel cards worth $500 each, provided by Sheetz and Kwik Trip/Kwik Star, will be given to sweepstakes winners who are active commercial vehicle drivers.
The 2022 NTDAW Free Fuel Sweepstakes is being held through Sept. 17. To be eligible to win one of 20 $500 fuel cards, drivers must have a valid CDL and a USDOT number.
The cards can be used for fuel and other items at Sheetz, Kwik Trip or Kwik Star locations. The sweepstakes is valid in all U.S. states, excluding Alaska, Florida, Hawaii, and New York.
CHP hosts appreciation lunches
The California Highway Patrol holds its annual Truck Driver Day at Nimitz Commercial Vehicle Enforcement Facility Tuesday, Sept. 13. CHP will be serving a free barbecue lunch to drivers from 10 a.m. to 2 p.m. There will also be raffle prizes.
In a Facebook post, CHP said, "We will have plenty of parking for your rig and trailer, so come enjoy a free lunch on us."
Other events during Appreciation Week:
Central Coast: Sept. 13
San Martin/Gilroy CVEFSierra Cascade/Redwood: Sept. 13
Cottonwood CVEF San Bernardino/Riverside & LA/Orange: Sept. 14
Banning/Desert Hills CVEFCentral Valley & San Joaquin: Sept.15
Chowchilla River CVEFKern: Oct. 4
Grapevine CVEFSan Diego/Imperial Otay Mesa CVEF: TBD