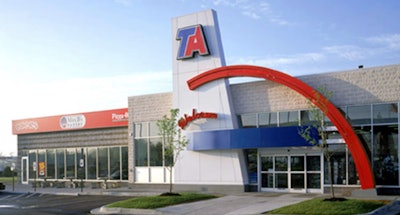 TravelCenters of America will honor truck drivers during National Truck Driver Appreciation Week (Sept. 1-17) with discounts, prize opportunities, and giveaways to let drivers know they are recognized, valued, and appreciated.
As TA marks its 50th anniversary, this year's celebration will include 50th-themed promotions and prizes.
Activities include daily instant-win games for prizes, including merchandise and coupons for use in the restaurants, stores and TA Truck Service. TA will also hold activities at individual sites throughout the week next week, which will include games, complimentary windshield washing and other initiatives to show appreciation for drivers.
Additionally, TA will host the Truckers Against Trafficking Freedom Drivers Project with Bridgestone Tires at TA Knoxville, Tennessee, on Sept.13, and an event with Arkansas Trucking Association at Petro North Little Rock, Arkansas, on Sept. 15.
TA Petro is also hosting a special appreciation promotion on its website beginning Sept. 12.
The rules are simple:
Visit ta-petro.com starting Sept. 12 and click the "Play Now" banner on our homepage
Enter your email address to access the game
Spin to win.
Prizes being awarded include:
$5 off a $20 purchase at TA Petro's full-service or quick-serve restaurants
50 cents off your beverage at their full-service or quick-serve restaurants
50% off a meal at a full-service or quick-serve restaurant (up to an $8 value)
Buy a meal get a second meal to go for 50% off (up to an $8 value)
50 cent fountain drink
50 cent coffee
50 cent roller grill item
Free BlueParrot headphones
$50 off 2 Steer Tires at TA Truck Service
$50 off a Tractor DOT at TA Truck Service
$15 off any Mudflap at TA Truck Service
$50 off Ultimate PM at TA Truck Service