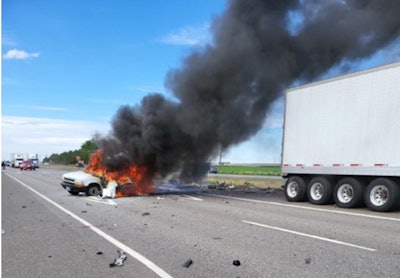 A trucker from Washington has been recognized for rescuing several victims of a fiery crash.
The Truckload Carriers Association recently named truck driver Kyle Uhrich from Covington, Washington, a Highway Angel for rescuing several injured crash victims from their burning vehicles and extinguishing the fires, amid live ammunition exploding. Uhrich drives for Trans-System, Inc. based in Spokane, Washington.
TCA explains:
On June 15, around 2:45 p.m. in Walla Walla County, Washington near Wallula Junction, Uhrich was stopped at the intersection of Dodd Road at Highway 12. He witnessed a pickup truck pulling a utility trailer with an industrial mower slam into the back of a tractor-trailer and catch fire.

Kyle Uhrich"I was literally already on my way out the door with the fire extinguisher in hand," Uhrich said, when another pickup truck slammed into the back of the first crashed pickup truck.

Uhrich said the driver of the first pickup was able to exit his vehicle with hand and face injuries. Uhrich guided this injured driver to the side of the road away from the flaming truck. "That's when I realized that the other car that had hit was also on fire," Uhrich shared, so he used his fire extinguisher to extinguish both fires.

The driver of the second crashed vehicle, however, suffered significant injuries; both he and his passenger were thrown from the vehicle. Uhrich used the rest of his fire extinguisher to subdue flames near the second vehicle so he could get to the victims.

"I pulled him away from the vehicle," said Uhrich. "I had to put him down because he was slippery because he was just covered in blood and I had to duck – there was ammunition in the car – as it caught fire they were popping off in the car."

When asked why he takes such risks to help these drivers? "You live by a code – you're taught to preserve life," said Uhrich, sharing that this wasn't his "first rodeo." Receiving medical training in the Norwegian Army when he was younger, he knows trucking can be dangerous and accidents happen. "It's not a matter of if, it's a matter of when," he said.
TCA has presented him with a certificate, patches, lapel pin, and truck decals. The company has also received a letter acknowledging him as a Highway Angel.
Since the program's inception in August 1997, nearly 1,300 professional truck drivers have been recognized as Highway Angels for the exemplary kindness, courtesy, and courage they have displayed while on the job.