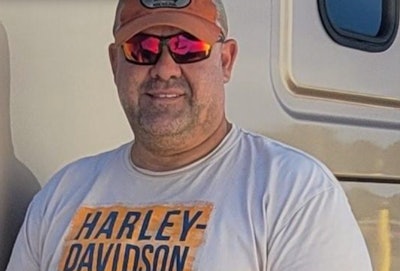 A trucker who aided a motorcyclist who had been in a collision has been honored for his actions.
The Truckload Carriers Association has named Jason Barber from Bethany, Oklahoma, a Highway Angel for rescuing a motorcyclist after he hit a deer on the highway.
TCA explains:
On June 17, at around 5:30 a.m., Barber was driving South on Interstate 35 near Ardmore, Oklahoma. He noticed a motorcycle, about 100 yards ahead of him. Just then, a deer ran out into the road in front of the motorcyclist, causing a collision.

"The deer ran right into him – sparks just started flying everywhere," Barber said. "He went one way and the deer went the other way."

Barber said the motorcycle and its driver slid about 30 feet, landing inside the left lane of traffic. The driver appeared to be injured, so Barber quickly pulled over to the shoulder to assess the situation.

"I got him pulled out of the roadway because if I hadn't the other traffic traveling South would've run him over," recalled Barber. "He had a broken leg, broken wrist, and some other injuries."

Within moments, Barber called for help, and waited with the injured motorcyclist on the side of the road until emergency personnel arrived. After the accident, the two kept in touch and the injured driver has given Barber updates on his recovery.

"I just happened to be in the right place at the wrong time, the wrong place at the right time," said Barber. "There's a reason I was there."

A former police officer for 19 years and truck driver for the past two years, Barber said he had to stop to help at the scene. "I could have kept going, but that's not the person I am."
TCA has presented him with a certificate, patches, lapel pin, and truck decals. The company has also received a letter acknowledging him as a Highway Angel.
Since the program's inception in August 1997, nearly 1,300 professional truck drivers have been recognized as Highway Angels for the exemplary kindness, courtesy, and courage they have displayed while on the job.