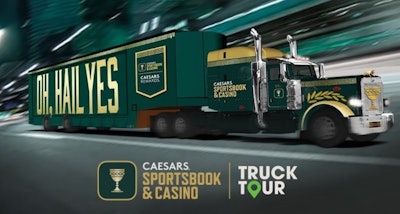 A major casino has launched a new marketing campaign using a specially outfitted tractor-trailer.
Caesars Entertainment, Inc. recently launched its Caesars Sportsbook & Casino Truck Tour, a fan engagement campaign featuring a big rig visiting sports venues across the U.S.
The Caesars Sportsbook & Casino Truck made its debut Sept. 19 in Orchard Park, New York, for the Monday Night Football home opener of the Buffalo Bills vs. the Tennessee Titans. Caesars Sportsbook also opened its new sportsbook-style premium club lounge in the northwest corner tower of the existing Business Class Club.
The Caesars Sportsbook & Casino Truck features more than 1,000 square feet of activation space allowing Caesars to personalize fan experiences at each stop. Two mainstays on the truck are a state-of-the-art production studio for filming content and a podcast studio for content creation with Caesars Sportsbook partners – Omaha Productions, ESPN, and CBS Sports.
Ambassadors from the Caesars Empire will appear along the tour including Trey Wingo, and Kenny Mayne, along with featured guests from Omaha Productions and other celebrities. Fans can expect to engage with well-known former star athletes, participate in tailgate-style activities, watch major sporting events being shown at the truck, and enjoy access to local food and beverage opportunities unique to each host market, according to a statement from Caesars.
Following its launch in Buffalo, the Caesars Sportsbook & Casino Truck will hit the road to additional states with legalized sports, making stops at multiple Caesars resorts and marquee sporting events through 2022 and 2023. The initial tour will culminate with a stop at Super Bowl LVII in Glendale, Arizona, a market that features a sports betting venue – Caesars Sportsbook and Guy Fieri's DTPHX Kitchen + Bar at Chase Field, home of the Arizona Diamondbacks.
Walmart adding 1,500 drivers ahead of holiday shopping season
Some 1,500 truck drivers are among the 40,000 new employees — both seasonal and permanent positions — Walmart is hiring ahead of the upcoming holiday shopping season. Starting pay for truckers is up to $110,000 a year.
Walmart said most of the new jobs are for seasonal store associates. They include:
About 2,000 will be hired for full-time and seasonal roles in "customer care and marketplace call centers."
Virtual call centers are located in Atlanta, Charlotte, Dallas, Houston, Orlando, Phoenix, Northwest Arkansas, and Draper, Utah.
Current part-time employees can also choose to pick up additional shifts.
Walmart said the 40,000 employees will work "in a variety of seasonal and full-time roles across our business" and that applications are being accepted on its careers website.
ICYMI
Federal judge rules Rhode Island's trucks only tolls unconstitutional
Possible steering loss issue leads to Western Star recall
Nomination process for Five Flashiest Fleets of 2022 is now open
Time to cast your votes in Overdrive's virtual Pride & Polish contest