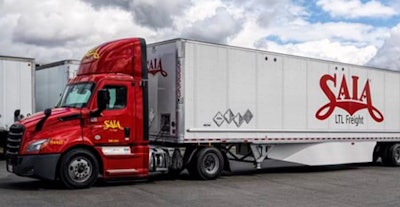 Saia announced Monday its planned phased opening of three new Saia LTL Freight terminals in the Midwest. The first two facilities, one in Dodge City, and another in Hays, Kansas, opened this week. A third terminal in Colby is slated to open within the next few weeks.
With the addition of these locations, Saia has opened a total of five terminals during the third quarter.
RELATED NEWS: Saia opens new terminal in Binghamton, New York
"We are proactively working to grow our network of terminals in the state and region so we are offering complete direct service," said Kevin Szydel, Vice President of Operations, West. "Adding these three new facilities will further strengthen our service and presence for customers, providing them with increased efficiencies by reducing transit times. The terminals will give us more flexibility in our day-to-day operations."
47 cattle die in tractor-trailer rollover on I-44
A tractor-trailer crash on Interstate 44 in Oklahoma Sunday morning claimed the lives of 47 cattle.
A report by KOCO-TV said 14 of the cows died on the upper deck of the trailer, which first responders had to cut open.
The remainder of the dead cattle were in the lower portion of the trailer, which had to be raised upright in order to get the surviving cattle free.
ICYMI
Nomination process for Five Flashiest Fleets of 2022 is now open
As a driver, what do you see as the ideal future for your career?
Bill requiring overtime for truckers introduced in Senate; joins one in House