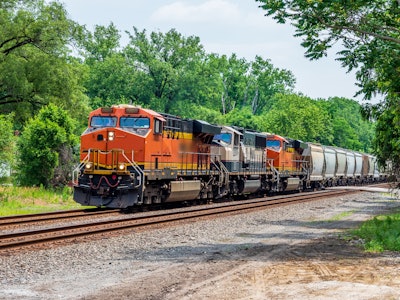 Railroad companies and the unions representing their thousands of employees reached a tentative labor agreement today, averting a potential strike Friday. The two sides had been in a 20-hour-long negotiating session, which included several cabinet secretaries and a call from President Joe Biden.
The deal, which covers 115,000 railroad workers, now goes to the unions' rank and file for a vote.
The proposed contract is for five years, retroactive to 2020. It includes a 24% raise -- including an immediate14.1% raise -- and a $5,000 bonus. It also includes an agreement by railroads to ease their attendance policies.
"The tentative agreement reached tonight is an important win for our economy and the American people. It is a win for tens of thousands of rail workers who worked tirelessly through the pandemic to ensure that America's families and communities got deliveries of what have kept us going during these difficult years," said President Biden today. "These rail workers will get better pay, improved working conditions, and peace of mind around their health care costs: all hard-earned. The agreement is also a victory for railway companies who will be able to retain and recruit more workers for an industry that will continue to be part of the backbone of the American economy for decades to come."
Today, American Trucking Associations President and CEO Chris Spear congratulated the railroads and their unions on reaching a deal and averting a potentially economically catastrophic strike.
"Our supply chain is entirely interdependent, making the potential for a nationwide rail stoppage a serious threat to our nation's economic and national security," Spear said. "We applaud both sides for reaching a tentative agreement that averts this outcome and permits our supply chain to continue climbing out of this COVID-induced rut."