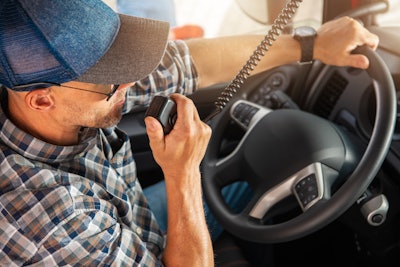 A recent survey of 500 truckers found that 84% of those asked said they plan to take on additional loads ahead of the holidays.
The survey was conducted by Truckstop, an online load board and provider of other trucker services.
Additional survey findings reveal:
68% of U.S. truck drivers surveyed plan to take on 16-25% more additional shifts ahead of this holiday season (between October and Jan. 1) to support increased seasonal demand
27% of U.S. truck drivers surveyed plan to take on 26-50% more additional shifts ahead of this holiday season
31% of U.S. truck drivers in the Northeast plan to take on 26-50% more additional shifts ahead of this holiday season to support increased seasonal demand, compared to 23% of U.S. truck drivers surveyed in the South who said the same.
Truckstop is also celebrating 10-4 day, also known as National CB Radio Day, by creating a fun custom CB handle generator. President Jimmy Carter designated 10-4 Day in 1978 to honor the citizens band, including America's freight carriers.
To learn more about Truckstop, or to find your new CB handle, visit: https://truckstop.com/tenfour.
Landstar driver wins 2023 Volvo
Landstar independent owner-operator Tony Green of Swayzee, Indiana, won a 2023 Volvo VNL64T 860, including registration and fees, in the annual Landstar Deliver to Win Truck Giveaway held on Sept. 29. in Carmel, Indiana.
Green was one of five finalists attending BCO Appreciation Days randomly selected from the contest's pool of eligible business capacity owners (BCOs), Landstar's term for leased owner-operators.
"Honestly, the last thing I expected when I came for the event was to be the winner of the truck," said Green. "I was shocked when I was announced as a finalist. I was even more shocked and in disbelief when I won!
"This new truck is going to make a huge difference for me. I'm sure it will be more efficient and comfortable. And I love this color! My current truck is about this color and so is my pickup truck. It was meant to be mine.
"Winning this truck is so great for me, my business, and my family. I'm very thankful to Landstar and I'm excited to get out on the road in it,"
Green has been leased to Landstar since 2009 and currently owns and operates a 2006 Peterbilt® 387.
Throughout the year, eligible Landstar owner-operators automatically earn entries in the Deliver to Win Truck Giveaway contest by delivering loads safely during the contest period. They also have opportunities to earn additional entries by attending safety meetings and participating on Landstar's monthly Safety Thursday Conference Call. After the contest period ends, all entries are pooled and finalists are selected by a computerized random number generator. Finalists must be present at the giveaway to win.
Landstar provides eligible leased owner-operators the chance to win a brand-new truck twice a year. This year marks the 45th and 46th truck giveaways in the company's history. Million Mile Safe Driver James Johnson won the Landstar All-Star Truck Giveaway in July.
Finalists named in Overdrive's 2022 Small Fleet Championship
Four small fleets are headed to Nashville for two final title tilts in Overdrive's 2022 Small Fleet Championship. Florida-based CAP Trucking will face off with Texas fleet Creech Trucking for the title belt in the 3-10-truck category. In the 11-30-truck category, Iowa-headquartered Holtkamp Transportation is up against 2020 finalist John McGee Trucking, out of Louisiana, back in the running for the award following continued growth in turbulent times.
That's been a reality for most of the entire pool of 10 semifinalists from which these final four were selected by a panel of judges among editors of Overdrive and sister fleet publication CCJ, and others. Read about all 10 of the semifinalists via stories collected at this link.
ICYMI
Werner acquires 200-truck, Indiana-based Baylor Trucking
Training group opposes bill that exempts small fleets from training requirements
Is it important to meet the driver manager before taking a job?