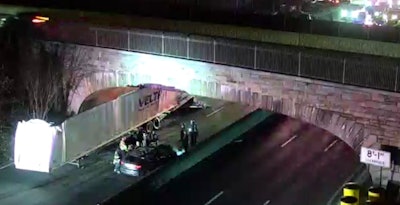 DOT traffic cam
A trucker who left his damaged trailer under the bridge it struck in New York eventually turned himself in to authorities Wednesday, Dec. 14.
The crash occurred at about 4 a.m. in the westbound lanes of the Southern State Parkway in Lakeview, New York on Long Island. The trailer struck the overpass near Exit 18, Eagle Avenue.
Tractor-trailers are not allowed on the parkway.
The Lakeview Fire Department posted to its Facebook page that the driver of the rig unhooked his 2009 Freightliner from the trailer and left the scene. However, he later turned himself in to New York State Police. He was identified as Jose De La Rosa-Martinez, 37 of the Bronx. He faces charges of leaving the scene of a personal injury accident and second-degree reckless endangerment.
RELATED NEWS: NY wants to crack down on height and weight violators
The driver of a 2007 Acura was injured when her vehicle struck the rear of the stuck trailer. She was taken to a nearby hospital with serious, but non-life-threatening injuries. A passenger in the Acura was also injured and transported to another hospital.
New York State Police continue their investigation.