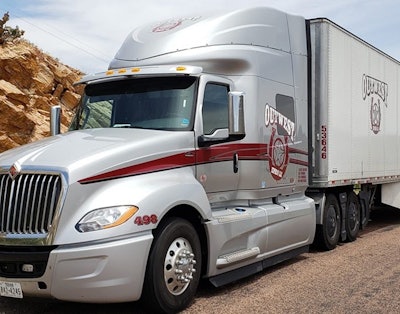 Ashland, Virginia-based full truckload Cox Transportation Services recently acquired Outwest Express, a provider of truckload freight services across the Southwestern U.S. and expertise in Mexican cross-border logistics.
A statement from the company said tacquisition is consistent with Cox's strategy of building a premier truckload carrier through organic growth and by acquiring attractive businesses in the fastest-growing transportation sectors in the United States.
Established in 2010 by Michael Puzio and Zachary Chilson, Outwest operates a fleet of more than 400 tractors and 1,200 trailers serving a diversified group of more than 300 customers across the retail, medical, manufacturing, automotive and electronics industries. Based in El Paso, Texas, with terminals in Kansas City, Missouri and McAllen, Texas, Outwest specializes in managing Mexican cross-border logistics, which is one of the fastest-growing transportation marketplaces in North America.
Outwest has capitalized on so-called "near-shoring" by manufacturers, driven by the relatively lower cost of shipping finished goods from Mexico versus overseas locales such as China.
Puzio and Chilson will continue to lead the Outwest business, reporting to Cox CEO Jay Smith, and will retain significant ownership stakes in the combined company. The acquired business will continue to operate under the Outwest brand.
Jay Smith, CEO of Cox, said, "I am delighted to join forces with Michael, Zach and the entire Outwest team. We admire the business they built and view it as a perfect complement to ours. By combining Outwest's capacity and expertise with Cox's, we can better serve our customers and enhance our role as a trusted and critical supply chain partner. This acquisition represents an important first step in our ongoing efforts to broaden and deepen our ability to serve our customers across truckload transportation and brokerage."
Road rage blamed when tractor-trailer strikes Texas house
Police in San Antonio, Texas say a road rage incident led to a tractor-trailer slamming into a house recently.
KSAT reports the truck's driver swerved to avoid a car that had brake-checked him. The driver reportedly lost control of his rig, which left the highway a struck a house. In the process, the tractor-trailer struck another vehicle, and the driver fell from the truck.
The driver of the truck and the driver of the car the truck struck were transported to a hospital for minor injuries.
A passenger in the truck was unharmed.
ICYMI
See which states have the highest fines for speeding by CDL drivers
FMCSA waives hours of service regs for heating fuel haulers
15-year Army veteran wins Kenworth in Transition Trucking award
51st Mid-America Trucking Show opens free registration online