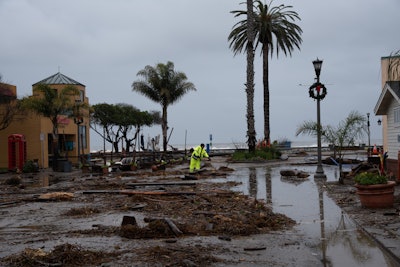 Rosangela Perry / Shutterstock.com
California Gov. Gavin Newsom on Jan. 4 issued an emergency declaration due to heavy rainfall, flooding, strong winds, and more in the state. According to the declaration, storms have forced the closure and caused damage to highways and roads, and continue to threaten critical infrastructure.
RELATED NEWS: Wisconsin waives hours of service regulations for heating fuel haulers
As a result, Newsom is allowing drivers transporting fuel in support of relief operations to exceed the hours of service limits. Drivers are still required to maintain a record of duty status, regardless of the number of hours worked each day. The logs shall then be prepared, submitted and maintained, as required by the California Code of Regulations.
Trucker charged in connection with train derailment
The driver of the tractor-trailer that caused a Norfolk Southern freight train derailment Dec. 20 near Chattanooga has been charged with, among other things, felony reckless endangerment.
Jorge Luis Cruz-Vega proceeded across the railroad crossing behind his first escort car without first assuring his tractor-trailer carrying a 137-foot concrete bridge beam could clear the tracks. He also did not make contact or arrangements with the railroad about his delivery route.
Police investigating the collision, which occurred in Collegedale, said Cruz-Vega stopped halfway across the tracks after his turn, and into the on-coming lane of traffic. While stopped, Cruz-Vega's tractor-trailer was struck by a Norfolk Southern locomotive, causing the train to derail.
The derailment caused three engines and 10 rail cars to leave the tracks. The train's engineer and conductor were transported to the hospital with injuries.
Cruz-Vega has also been charged with failure to yield and a registration violation. He is currently out on a $10,000 bond and his court date has been set for April 12.
ICYMI
Welcome to our new series in which we find out what's on truckers' minds
Trucker Poll: Did you make any New Year's resolutions?
Pennsylvania flatbed carrier adds Nikola Tre BEV to its fleet