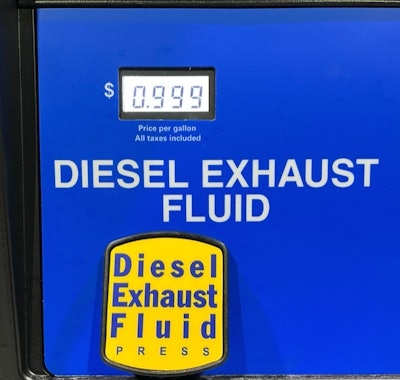 Today Sheetz, the Mid-Atlantic restaurant and convenience chain, announced it will decrease its diesel exhaust fluid prices to 99 cents a gallon at the following locations that offer this fluid, starting today until Jan. 31:
Pennsylvania
139 Route 6, W Coudersport

1867 Rich Highway, Falls Creek

205 N Center Avenue, New Stanton

718 Bellwood Road, Altoona

610 Route 22 Highway, W Blairsville

3014 Route 219, Kane

5235 N Susquehanna Trail

2298 Golden Key Road, Kutztown

3636 PA 31, Donegal
North Carolina
2521 North Memorial Drive, Greenville

1400 NC Highway 66, South Kernersville

2191 13th Avenue Drive SE, Hickory

1532 Salisbury Highway, Statesville

4005 Jones Sausage Road, Garner
Ohio
1101 North Canfield Niles Road, Austintown

5238 Alum Creek Drive, Groveport

5010 Corrine Drive, South Bloomfield

560 River Street, Madison

360 Center Street, Seville

321 State Street, Jeffersonville
Virginia
5015 Mudd Tavern Road, Woodford

550 South Airport Drive, Henrico

227 Conicville Boulevard, Mt. Jackson
West Virginia
268 Genny Loop, Moorefield
Until today, the average price of diesel exhaust fluid at Sheetz's stores was $3.50 a gallon. This reduction will result in a savings of about $15-$75 for customers depending on the size of the DEF tank in their vehicle, according to the company.
This offer will only apply to bulk DEF sold at Sheetz's truck diesel dispensers.
Earlier in the month, Sheetz announced it would also decrease diesel fuel prices by 50 cents a gallon at each location that offers this grade. This offer also lasts until Jan. 31.