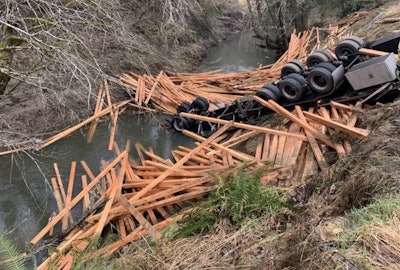 Columbia County Sheriff's Office
The driver of a tractor-trailer loaded with lumber died in a crash Monday, Feb. 6 in Oregon northwest of Portland.
The one-vehicle crash occurred shortly after 1 p.m. on the Scappoose-Vernonia Highway, according to the Columbia County Sheriff's office.
An investigation by the sheriff's office found the truck left the roadway and the trailer fell over the embankment, which caused the cab to roll.
The driver was identified as 69-year-old Dennis Hickethier, of Vancouver, Washington. The sheriff's office said Hickethier was conscious as crews worked to free him from the cab of the truck, but he later died at the scene.