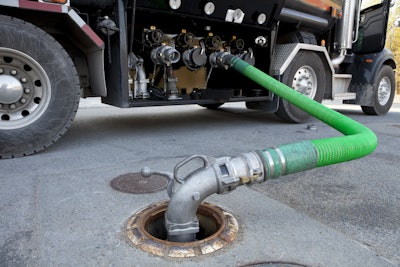 A leak in a California gasoline pipeline last week that supplies gasoline and diesel to facilities in southern Nevada prompted Nevada Gov. Joe Lombardo to declare a state of emergency, waiving hours of service requirements for truck drivers hauling gasoline, diesel, jet fuel, and other refined petroleum products.
The Kinder Morgan pipeline, according to Lombardo, supplies approximately 90% of the needed gas, diesel, jet fuel, and other refined petroleum products to the Las Vegas Valley and surrounding areas. It was shut down last week due to a leak, but the company announced over the weekend that it had resumed operations.
Lombardo's declaration waives the maximum driving time regulations in Part 395.3 of the hours of service regulations for fuel haulers in the state. Unless renewed, the declaration is effective through Feb. 25.
Arpin acquires Florida HHG company
Arpin International Group, a global moving and storage company, has acquired Stephens Moving Services of Cape Coral, Florida, which specializes in United States/Canada cross-border moves for private residential customers. This acquisition will facilitate the continued growth of Arpin's transportation management solutions in North America, according to a statement from the company.
The Arpin family has its earliest roots in Canadian history, having started their moving business in Drummondville, Quebec, back in 1900 before immigrating to the United States. So, it was just a matter of time before the Arpin family returned to their origins. In 1992 the company began to offer its customers United States/Canada cross-border services, as well as service within the Canadian provinces.
"Arpin is excited about its continued expansion into Canada," said Peter Arpin, president of Arpin International Group. "The United States and Canada are each other's largest trading partners, representing $125M in cross-border moves annually. The acquisition of Stephens Moving Services enables Arpin to provide its world-class moving services and bonded warehouses to major Canadian markets — especially in the provinces of Alberta, British Columbia, Ontario, and Quebec. Arpin's long-term growth strategy includes maintaining a diversified portfolio. This acquisition allows us to establish a stronger foothold in the highly competitive cross-border private residential market."
ICYMI
Republican senators seek to overturn new EPA truck emissions standards
Levi Hummon featured in benefit concert for trucker relief organization
Driver Poll: Have you had to turn down a job because they didn't have a truck for you?