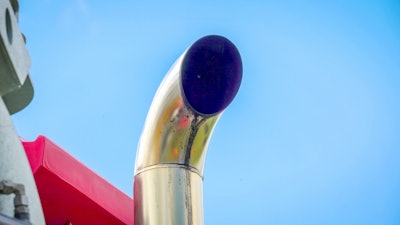 A group of Republican senators Thursday introduced a joint resolution seeking to overturn the Environmental Protection Agency's rule on heavy-duty truck emissions, which is set to go into effect next month.
Thirty-four senators, led by Sen. Deb Fischer of Nebraska, signed onto the resolution, which would use the Congressional Review Act to negate the EPA's rules finalized last December. That act allows the reversal of rules made by the executive branch by a simple majority vote in both the Senate and the House.
The EPA updated emission standards for heavy-duty commercial vehicles for the 2027 model year, tightening tailpipe NOx limits to a level 80%-plus below the current standard and reducing the particulate matter limit by 50%. The regulation would also require that OEMs extend warranties to 450,000 miles from 100,000 and useful life limits to 650,000 miles from 435,000 miles.
It is set to go into effect on March 27.
In issuing the resolution, Fischer was especially critical of the Bidn Administration. In a statement, Fischer said the rule would be "challenging to implement and make new, compliant trucks cost prohibitive for small business owners."
She added, "The Biden Administration is saddling the trucking industry with an onerous regulation that would jack up vehicle costs and hurt good paying jobs. This aggressive EPA rule – which will hit mom-and-pop truck operations the hardest – is also ineffective because it incentivizes operators to keep using older, higher-emitting trucks for longer. During a period of high inflation and supply chain disruptions, the last thing this country needs is more expensive freight costs and fewer truckers. I am proud to be leading a large coalition of my colleagues to push back against the Biden Administration's obsession with excessive climate regulations."
The passage of the resolution is uncertain, as Democrats control the Senate and would likely oppose it.