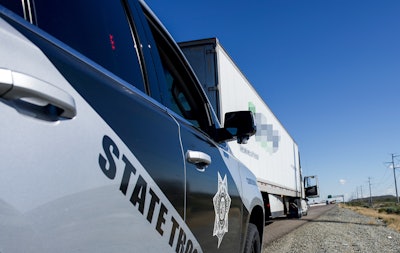 ADPS
A recent five-day enforcement effort aimed at commercial motor vehicles placed 106 vehicles and 135 drivers out of service in Arizona.
During the special enforcement detail "Operation Southern Shield", the Arizona Department of Pulice Safety's Commercial Vehicle Enforcement Task Force and partners completed 693 inspections and recorded 2,238 driver-vehicle examination report violations.
The enforcement blitz was held from Monday, Feb. 20, through Friday, Feb. 24, on Interstate 10 from Phoenix to the New Mexico state line, and on Interstate 19 from Tucson to the international border.
Throughout the operation, CVETF personnel placed special emphasis on violations involving reckless driving, failure to use a turn signal or improper signaling, failure to yield the right of way, and improper lane changes, according to a statement from the ADPS. These are all among the American Transportation Research Institute's top five driving behaviors that are consistent indicators of future crash involvement.
Additional importance was placed on restraint usage and cell phone distractions; 69 restraint violations and 15 cell phone use violations were reported.
During this operation, CVETF personnel worked with inspectors, deputies and officers from the Federal Motor Carrier Safety Administration, the Pinal County Sheriff's Office, Marana Police Department, Oro Valley Police Department, and the Tucson Police Department.