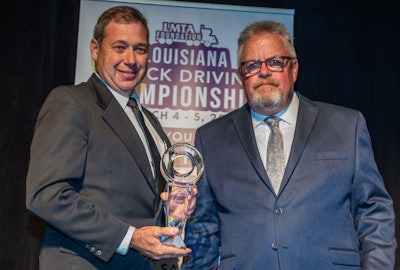 The 2023 Louisiana Truck Driving Championships, presented by the Louisiana Motor Truck Association Foundation, starts Friday, March 3 and finishes on Saturday, March 4. The two-day competition will be held at the Renaissance Baton Rouge as well as a specially made driving course across Highland Road from Blue Bayou and Dixie Landing amusement park.
This year's competition will see 85 drivers participating, each completing three tests focused on a driver's knowledge and skills. All competitors must provide safe driving records, including a zero-accident report for the year.
The scored categories are as follows:
(1.) The written examination is an hour-long test that measures competitors' knowledge of the trucking industry, safe driving rules, first aid, and firefighting.
(2.) The pre-trip inspection tests the driver's ability to thoroughly investigate the Federal. Motor Carrier Safety Administration's pre-trip inspection. Each driver is tasked with finding 17 defects planted on a test vehicle within a limited time.
(3.) The field test course sees contestants drive a vehicle through the specially designed course with problems designed to simulate conditions they may encounter during the everyday operation of a truck.
RELATED NEWS: FedEx Freight driver wins grand champion title in Louisiana competition
"Our annual Truck Driving Championships is always a highlight of our year," said Renee Amar, executive director of the LMTA Foundation. "These men and women are truly some of the safest drivers in the state, and it's great to see how excited they are to compete."
The Louisiana competition has nine competition classes, each with different size commercial vehicles. The classes are Step-Van, Straight Truck, 3-Axle Van, 4-Axle Van, 5-Axle Van, 5-Axle Tank, 5-Axle Flatbed, 5-Axle Sleeper Cab and Twin-Trailers. Scores in each class are calculated from each competition category to recognize a first, second and third-place winner. Each winning contestant is recognized during the night's Trucking Safety Awards Banquet, receiving an award for their competition class.
Also awarded during the competition are the Mechanics Award, Rookie of the Year Award, Team Award, and Overall Grand Champion. The Mechanic's Award is given to the person with the highest pre-trip inspection score. The Rookie of the Year is the driver with the highest score among those participating in a truck-driving championship for the first time. The Team Award is given to the company with the overall highest average score based on the scores of the competing drivers from that company. The Grand Champion is the driver who receives the highest overall score during the competition.
All first-place winners will represent the LMTA Foundation and the State of Louisiana in the 2023 American Trucking Association (ATA) National Truck Driving Championships in Columbus, Ohio, Aug.16 – 20.