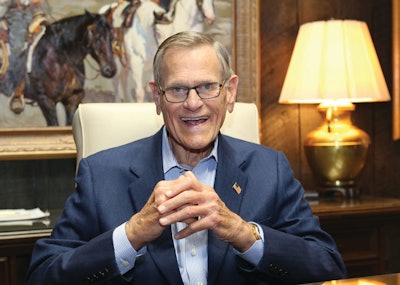 Love's Travel Stops
Tom Love, who, along with his wife and business partner, Judy, founded a family-owned and -operated network of more than 600, passed away today at the age of 85 in his hometown of Oklahoma City.
Mr. Love is survived by his wife of 62 years, Judy, his children Frank, Greg, Jenny and Laura, nine grandchildren and two great-grandchildren and two more on the way.
"Tom Love was a man of conviction who never wavered from the principles of honesty and integrity in the 59 years he spent developing the company he started with his wife, Judy," said Shane Wharton, president of Love's. "These tenets still guide our company and will as we move forward. Tom always listened and was sincerely interested in knowing the stories of employees and customers. He wanted to hear their thoughts, ideas and hopes for them, their families and the company. He credited the company's success to the people who worked for us. He could relate to all employees but had a soft spot for those on the frontline at stores. In many respects, he was an ordinary person who built an extraordinary business alongside his wife Judy and his family, who he loved deeply."
Born in 1937 in Oklahoma City, Mr. Love attended St. Gregory's Preparatory School in Shawnee, Oklahoma, and St. John's University in Minnesota, before enlisting in the United States Marine Corps in 1954. He married Judy, in 1960.
In 1964, the Loves used $5,000 to lease an abandoned service station in Watonga, a small rural town northwest of Oklahoma City. From a modest beginning, the then-named Musket Corporation opened 40 stores in eight years in western Oklahoma.
Under Mr. Love's leadership, Love's opened its first travel stop on Interstate 40 in Amarillo, Texas, in 1981, catering to professional truck drivers and the motoring public who sought convenience and efficiency when traveling across the country. Throughout the decades, Love's has expanded its services to include hot and fresh food items, truck care maintenance and warm showers.
The company has flourished under Mr. Love's and his family's leadership – opening its 600th location in October 2022. The Love's Family of Companies has grown to include businesses focused on truck maintenance, logistics, commodity supply and alternative energies.
He received many honors, including Corporation of the Year in 1991 and the 1996 President's Award for Service to God and Country. He was chosen as Oklahoma's Most Admired CEO in 2010 and Trust Guardian Transportation Award in 2014. A Chickasaw citizen, Tom was inducted into the Chickasaw Hall of Fame in 2019 and the Oklahoma Hall of Fame in 2000.
Mr. Love's passion for service was also felt in his commitment to helping those in his community. The Love family has generously donated to local and national organizations such as Children's Miracle Network Hospitals, United Way, Catholic Charities, the Archdiocese of Oklahoma City, Oklahoma State University and the University of Oklahoma. In 2018, OU opened the Tom Love Innovation Hub to provide a space for future entrepreneurs and other workforce development programs. The university recently broke ground on Love's Field – the future home of the six-time national champion Sooner softball team. In addition, his legacy will carry on at the Love Family Women's Center on the campus of Mercy Hospital in Oklahoma City and Science Museum Oklahoma's new state-of-the-art planetarium that will be named Love's Planetarium.
"We are deeply saddened by the passing of our beloved husband, father and grandfather," said a statement from the Love family. "He loved people, and that was evident in how he guided our family, operated the business he started in 1964 and gave back to our community and organizations across the country that serve others. He was always committed to helping others succeed and opening the door for leaders, including his children and grandchildren, and we look forward to building upon his legacy. While the grief we feel is unmeasurable, we celebrate his life and will continue his legacy of living a life filled with integrity, honesty, and faith."