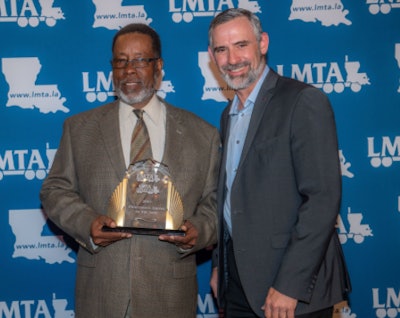 LMTA Foundation
The Louisiana Motor Transport Association (LMTA) Foundation recently announced its trucker of the year award winner, and honored a safety professional of the year as well.
Nelson Landry with South Louisiana Community College is the 2023 Louisiana Truck Driver of the Year. Kenny Stocks of The R Group II is the 2023 Louisiana Safety Professional of the Year.
Landry was chosen for his over 31 years in the industry and his contributions to the incoming workforce. Nominated by South Louisiana Community College (SLCC), where Landry serves as the lead examiner, he received his commercial license in 1992. During his career, he has driven over 3 million miles with a zero-accident record.
While driving professionally, Landry was known to go out of his way to help those in need, once entering Florida during a hurricane to deliver generators for radio stations and hospitals during a mandatory evacuation, riding out the storm in his truck and staying to help in the aftermath. Landry's dedication to helping others has continued into his retirement as for the past seven years.
RELATED NEWS: FedEx Freight driver repeats as grand champion in Louisiana competition
He has worked with SLCC turning his time and talents over to teaching the next generation of drivers, significantly impacting the incoming workforce for the trucking industry, according to the LMTA Foundation.
As the 2023 Louisiana Truck Driver of the Year, Landry will be featured on the cover of Open Road magazine, as well as featured on a select number of billboards across the state during the month of September, celebrating National Truck Driver Appreciation week. Landry was recognized during the LMTA Foundation's Truck Safety Awards at the Renaissance Baton Rouge on March 4.
Stocks was nominated by the R Group II for his accomplishments as the company's first-ever dedicated safety officer overseeing a fleet of over 75 vehicles. In his two years with the company, Stocks has prioritized education and compliance within the fleet and with drivers, strengthening the company's safety culture and raising each employee's safety profile.
Stocks has also created a comprehensive onboarding and training program, reducing the number and severity of citations with the company's fleet while introducing new programs such as incentivizing safe drivers and implanting fleet evaluation metrics. Stocks holds over 30 years of safety and compliance experience within the trucking history and 14 years of military service in the United States Marine Corps.
"Our Safety Professional and Truck Driver of the Year are the heart of our industry's workforce," said Renee Amar, executive director of the LMTA Foundation. "This year's recipients showcase the best of Louisiana's trucking industry. We had a group of outstanding applicants for both awards, and it was an extremely competitive year."