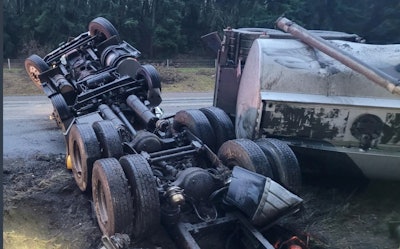 WSDOT
Officials in Washington continue to oversee the unloading of a double tanker hauling gasoline that rolled over on Interstate 5 west of Olympia today.
The crash occurred at about 6 a.m. during rainy conditions. One of the tanker trails split open and spilled its cargo. The other remained intact and the gasoline was being transferred to another tanker.
The driver of the truck and a passenger were taken to a local hospital for treatment of minor injuries.
It was expected that I-5 would be reduced to one lane for much of the day. Authorities were asking travelers to avoid the area in Lacey, about 5 miles west of Olympia.