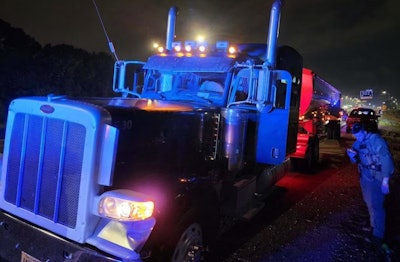 Mobile County Sheriff's Department
Police in Alabama recently ended a chase of a tractor-trailer driving the wrong way on several city streets and interstate highways by shooting out the tires of the truck.
On Thursday, March 9, officers from the Mobile County Sheriff's Department saw an 18-wheeler driving the wrong way on Interstate 165 in Mobile. Officers tried to stop the tractor-trailer but the driver refused to stop, and a chase ensued.
The trucker led the police through several downtown streets and then onto the eastbound lanes of Interstate 10. Officers said in order to protect other motorists, they shot out the tires on the truck, which came to a stop near the Michigan Avenue exit.
The driver, who was identified as Christopher Cody Foster, exited the truck and tried to flee from police. A police K-9 apprehended him.
A statement from the sheriff's office said officers suspected Foster may have been under the influence of drugs. They found several grams of methamphetamine and crystal meth on him.
Foster faces several charges.
No injuries were reported.