TravelCenters of America Inc., the operator and franchisor of the TA, Petro Stopping Centers and TA Express travel center network, announced today updates to its full-service restaurant business.
The Ohio-based company announced Maira Isabel now serves as TA's corporate executive chef, and "will focus on adding flavorful, healthy offerings and integrating food trends and regional specialties into the menus of TA's Country Pride and Iron Skillet restaurants," according to a statement from the company.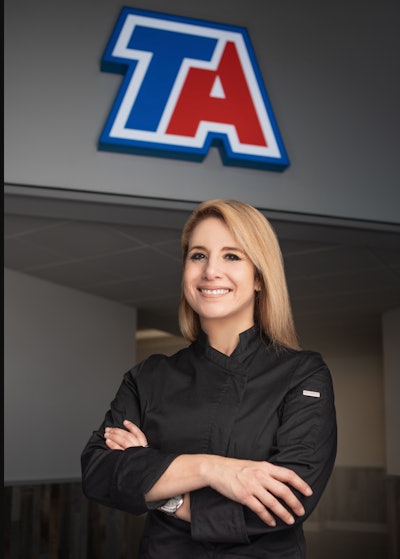 Before moving to the US, Isabel was a chef and on-air talent for multiple television shows for many years and was the Puerto Rico hostess of Bizarre Foods on the Travel Channel. Her career has spanned TV, print and online publications including the Cooking Network, Travel Channel, and Food & Beverage Magazine and she is a best-selling cookbook author.
"Chef Maira's diverse background working in restaurants around the world, coupled with her sincere passion and enthusiasm, will elevate the sit-down dining experience at our travel centers," said Lloyd Sanford, TA'a senior vice president for hospitality. "Every culinary decision will be focused on ensuring we deliver on our mission of returning every traveler to the road better than they came."
RELATED NEWS: Travel Centers of America unveils Fork & Compass new full-service restaurant
With over 150 full-service restaurants nationwide, TA launched Fork & Compass earlier this year in Perrysburg, Ohio. Fork & Compass is designed to be an attractive option for all travelers and a destination spot for the community, with unique food options in a casual, comfortable, family-friendly atmosphere. TA also added five IHOPs and two Black Bear Diners in 2022, with plans to open more full-service restaurants this year.
TA will continue its collaboration with Cleveland Clinic, and Isabel's menus will offer healthy meal options approved by the health care institution and highlighted with a heart-healthy logo. TA said it also plans to expand beyond these menu offerings by working with Cleveland Clinic to identify healthy snack and grab-and-go food options in its travel stores.