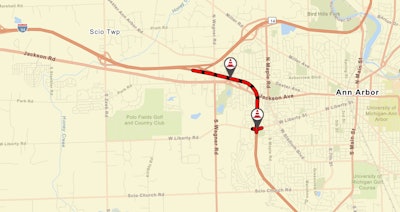 MDOT
The Michigan Department of Transportation is closing eastbound I-94 between M-14 and Ann Arbor-Saline Road and Liberty Road over I-94 due to a high-load hit of that caused extensive damage to the Liberty Road bridge.
MDOT said emergency repairs will begin today and are estimated to take possibly a week but the exact schedule won't be known until repairs begin.
Founder of Women In Trucking honored by Navistar
Ellen Voie, founder of the Women In Trucking Association, was awarded the Nettie Fowler Champion of Change award by Navistar, Inc., the manufacturer of International® brand commercial trucks and engines. The award recognizes an individual whose actions consistently show a commitment to helping women progress and grow within the industry.
"Ellen embodies everything the award stands for," said Nicole Wiggins, Navistar's chief diversity officer and co-creator of the Nettie Fowler awards. "During her years as president of WIT, she has demonstrated tireless dedication to the advancement of women in the trucking industry. Ellen has stayed motivated and passionate about her mission. Every milestone she has reached, she has not become complacent, yet continues to advocate for the inclusion and equity of women in the industry."
Voie founded WIT in 2007 and has been president and chief executive officer of the organization.
The awards are named in honor of Nettie Fowler, who was married to Cyrus McCormick, the founder of the company that eventually became Navistar. She was a trusted advisor and partner to her husband in financial and legal matters, as well as an advocate for workers and a well-known philanthropist. Recipients of this award are true champions of women and of driving equality, who stand out because they mentor, support, and create opportunities for women.
Centerline Drivers names its 2022 Driver of the Year
Joel Lawson is Centerline Drivers' 2022 Driver of the Year. This is the second year Centerline has awarded the honor as part of its Respect the Drive program, which celebrates the work truck drivers do every day.
He drives for Standard Logistics in Baltimore and has done so for almost 15 years.
The award comes with a trophy, Respect the Drive gear and a $5,000 bonus as well as recognition from both Centerline and Standard Logistics.
Joel is a Baltimore native who has driven over 3 million miles in his 20 years as a truck driver, with no DOT accidents or incidents.
He is an Army veteran who in Desert Storm and began serving with the National Guard after his discharge.
Filiberto Balan and Steven Jankovsky earned runner-up stats and will also receive Respect the Drive Gear.
Centerline Drivers connects over 4,500 drivers annually with Fortune 1000 and mid-sized companies. Centerline has been delivering staffing services to fleet operators since its founding in 1975.
ICYMI
Cops stop wrong-way 18-wheeler chase by shooting out tires
Louisiana's Driver of the Year now teaches next crop of truckers
Free webinar explores on the road nutrition options for truckers