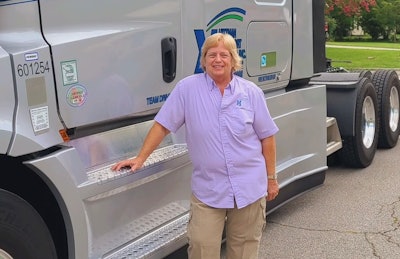 CVSA
The Commercial Vehicle Safety Alliance is accepting nominations for its International Driver Excellence Award (IDEA), an annual award that recognizes an extraordinary professional commercial motor vehicle driver and their commitment to public safety.
In addition, the alliance announced it has increased the monetary award amount for the IDEA winner, doubling it from the previous amount of $2,500, to $5,000 this year.
The 2023 IDEA recipient (and a guest) will also receive complimentary airfare to Grapevine, Texas, along with a two-night, one-room hotel stay at the Gaylord Texan, to attend the CVSA Annual Conference and Exhibition awards luncheon where they will receive their check and crystal trophy.
Nominees must have:
At least 25 cumulative years of crash-free driving in a commercial motor vehicle with a clean driving record for the past three years
No felony convictions
No safety-related driving suspensions in the past three years
No driver violations in the past three years, excluding form and manner violations
CVSA's application enables individuals to easily fill out the nomination form and submit the required supporting documentation online. Access the 2023 IDEA online nomination submission form.
"Commercial drivers are the backbone of North America's supply chain, ensuring people and goods reach their destinations safely," said CVSA President Maj. Chris Nordloh with the Texas Department of Public Safety. "IDEA is the perfect way for a motor carrier to honor and recognize drivers for their vital work."
Check out previous IDEA winners.
This year's International Driver Excellence Award is sponsored by PrePass Safety Alliance.
If you have any questions about IDEA, contact CVSA Fatigue Management Specialist Rodolfo Giacoman via email or at 202-998-1830.