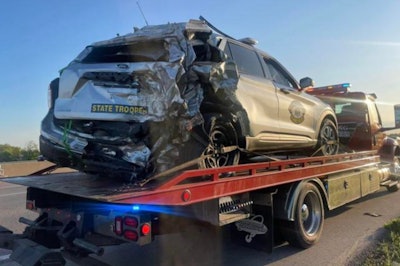 Missouri Highway Patrol
A Michigan trucker faces felony DWI charges following a crash Sunday, April 23, that injured two Missouri Highway Patrol troopers and an officer from the Glendale, Missouri police department.
James L. Gibbs, 62, of Flint, Michigan, was charged with two counts of DWI resulting in an injury to law enforcement officers and one count of failing to yield to emergency vehicles.
The crash happened on eastbound Interstate 44 at about 2:30 a.m., when two highway patrol vehicles and a Glendale police SUV were blocking two lanes of the highway near South Lindbergh Boulevard. The officers had responded to a 2015 Honda Pilot that had broken down in the middle of the highway. All three vehicles had emergency lights activated when Gibb's truck came down the highway at full speed and crashed into the back of the highway patrol vehicles and the side of the Glendale police SUV, court documents allege.
Two troopers and a Glendale officer inside the vehicles at the time of the crash were transported to a hospital with injuries. All three have since been released.
After the crash, Gibbs admitted to investigators that he had taken another person's prescription drugs before driving. He also "performed poorly" on several field sobriety tests, a highway patrol trooper wrote in charging documents.
The semi totaled both highway patrol vehicles — a 2020 Dodge Charger and a 2023 Ford Explorer. The Glendale police SUV had moderate damage.
Gibbs' cash-only bond was set at $100,000.