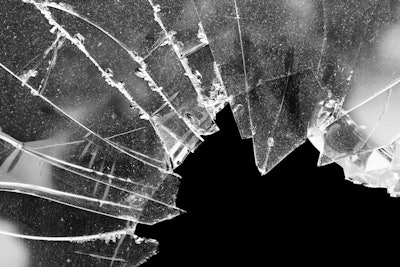 The driver of a FexEx tractor-trailer was injured recently when a rock thrown from an overpass broke through the truck's windshield and struck the driver in the head.
The incident occurred Sunday morning, April 23, on Interstate 74 at mile marker 127 in Decatur County southeast of Indianapolis.
WRTV reports the Decatur County Sheriff's office said "evidence leads them to believe a rock was thrown through the windshield of the truck and knocked them unconscious. This led him to drive off the road and into the median of the interstate."
The trucker was flown by helicopter to a nearby hospital.
Love's offers Roadcheck-related deals
Ahead of the upcoming International Roadcheck, Love's Travel Stops is offering discounts on select services throughout its truck care network. During May, drivers can receive a free TirePass inspection and $10 off Department of Transportation inspections at more than 430 Love's Truck Care and Speedco locations. Drivers can also receive a complimentary visual inspection with the purchase of any truck care service.
RELATED NEWS: New to driving? Not been inspected? Insider offers Roadcheck advice
"Around the clock, Love's Truck Care and Speedco team members help drivers get back on the road quickly while helping ensure their trucks are safe and legal," said Gary Price, executive vice president of Truck Care. "Our deals on inspections will help save professional drivers even more time and money while they fuel up and prepare for the CVSA International Roadcheck."
The CVSA International Roadcheck takes place May 16-18, and CVSA-certified officials will inspect commercial motor vehicles and drivers across North America.
CDL training provider offers online hazmat training
160 Driving Academy is now offering online hazmat training in 30 states.
Those states include Alabama, Arkansas, Arizona, California, Delaware, Georgia, Illinois, Indiana, Iowa, Kansas, Kentucky, Louisiana, Massachusetts, Mississippi, Missouri, Montana, Nebraska, Nevada, North Carolina, New Jersey, New Mexico, Oklahoma, Ohio, Oregon, Pennsylvania, South Carolina, Utah, West Virginia, Wisconsin, and Wyoming.
The company said more states will be added in the future.
The hazmat training course consists of a four-hour, virtual course, led by a live Instructor.
Participants who successfully complete the course will be added to the federal training provider registry so that they may test at their driver's services facility for their Hazmat endorsement.
ICYMI
TA once again rejects ARKO offer; vote on BP's $1.3 billion deal is May 10
Driver Poll: What are you most worried about right now?
C.R. England, Kodiak Robotics partner to deliver for Tyson Foods in Texas
Virginia's highways top study by libertarian think tank; Alaska's are last