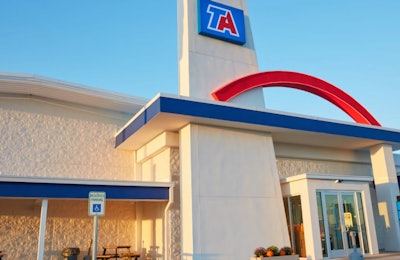 TravelCenters of America Inc. today once again said it was not interested in a purchase bid by ARKO Corp. and said it remained committed to a sale to BP, the British energy giant.
In a statement today, TA said it had requested and received a contractual waiver from BP Products North America Inc., and engaged with ARKO Corp. to diligence its proposal. Following this engagement, TA's Board of Directors reaffirmed that ARKO's proposal is neither a superior proposal nor could it reasonably be expected to lead to a superior proposal. The Board reconfirms its recommendation that shareholders vote FOR TA's pending merger with BP, which, subject to shareholder approval, is scheduled to close on May 15.
BP's offered to purchase TA for about $1.3 billion, while ARKO's proposed deal was for $2.4 billion.
TA's statement about its rejection of the ARKO offer said:
"During the engagement with ARKO, TA confirmed that ARKO plans to finance its proposed $2.4 billion acquisition of TA through an amalgamation of uncommitted funding sources, including by entering into unnegotiated new and expanded credit facilities, entering into unnegotiated sale and leaseback transactions at unrealistic high real estate valuations and using unavailable TA cash. Furthermore, as part of this engagement, ARKO unequivocally stated that, even if it was granted access to more diligence, it did not plan to obtain a committed bridge loan to close a transaction with TA. ARKO also confirmed that its discussions with an insurance provider were preliminary and that it did not know the costs to obtain such a policy."
The full text of the letter from the TA Board to ARKO, can be found here: https://investors.ta-petro.com/investors/default.aspx, under the link titled "ARKO Letter: April 24, 2023."
The Special Meeting of Shareholders to approve the pending acquisition of TA by BP is scheduled for Wednesday, May 10, at 9:30 a.m. Eastern Time. TA shareholders of record as of the close of business on March 23, will be eligible to vote at the special meeting. Subject to shareholder approval, the transaction is expected to close on May 15.
Under the terms of the pending transaction, BP will acquire all of the outstanding shares of TA common stock for $86 per share in cash. The transaction price represents an 84% premium to TA's average trading price of $46.68 over the 30 days that ended Feb. 15, the date the BP merger agreement was signed.