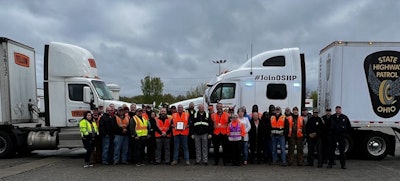 Ohio State Highway Patrol
The Ohio State Highway Patrol recently joined in the recognition of a driver reaching an impressive career milestone.
Troopers and inspectors with the patrol's Licensing and Commercial Standards section joined members of Yellow LTL Freight to recognize Anthony Perkins. A professional driver from Lewis Center, Ohio, Perkins logged 4 million miles without a preventable crash.
Officers said they also had the opportunity to speak with other Yellow drivers and managers about a variety of commercial safety topics.
"We applaud Anthony for his dedication and commitment to traffic safety," said the troopers on their Facebook page.
Free CDL training for formerly incarcerated people
The National Council for Incarcerated and Formerly Incarcerated Women and Girls, Families for Justice as Healing, and Inside the Sun recently announced a partnership offering free pre-CDL training for Boston residents interested in pursuing a career in the trucking industry.
The program takes place Tuesday evenings for five weeks at the Families for Justice as Healing offices at 100R Warren Street, Roxbury in July.
Participants will receive comprehensive instruction and hands-on training from experienced instructors and compensation for participating. In addition, after completing the five-week program, participants will have their full tuition covered at Parker Professional Driving School, ensuring that students are prepared with the knowledge and skills needed to obtain their commercial driver's license.
Before the start of the program, there are three listening sessions at 5:30 p.m. They are May 12, June 6 and June 27.
Community members will learn more about the pre-CDL course during the listening sessions. For information, visit www.reimaginingcommunities.us.
Designed by formerly incarcerated women, the Reimagining Communities infrastructure works to end the incarceration of women and girls and provide vital resources to communities to combat the transgressions that lead to incarceration.
Founded in 2010 by a group of women incarcerated in federal prison in Danbury, Connecticut, the National Council organizes against the incarceration of women globally.
ICYMI
After 10 years in the making, Peterbilt unveils 'Legendary' Model 589
Podcast: TCA's Jim Ward talks about the industry, first year as president
Online registration open for 40th annual ShellRotella SuperRigs contest