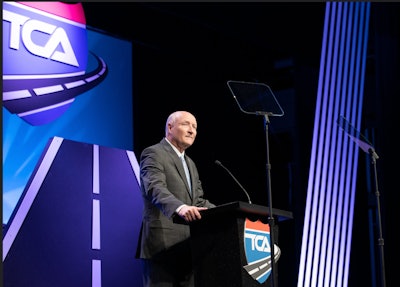 TCA
A lot can happen in a year.
Just ask Jim Ward.
It's been a bit more than a year since he took over as president of the Truckload Carriers Association, one of the largest and most influential advocacy organizations in the U.S. trucking industry. He came to the job after a successful career as president and CEO of D.M. Bowman, which today operates more than 380 trucks from eight East Coast terminals.
Ward took over after the country and its essential trucking industry had coped with the worst of the COVID-19 pandemic. Since then, It has been a busy year with trucking facing a slew of issues; everything from rising diesel prices to falling spot market and contract rates.
In this edition of the Truckers News Podcast, Ward comments on a variety of issues, including attracting a new, young crop of drivers to the industry and how trucking can deal with the federal government's latest emissions standards.