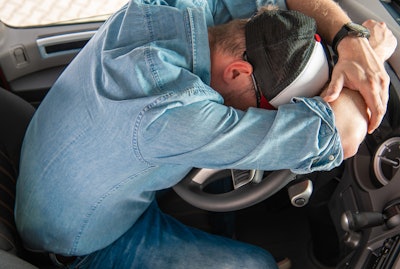 Dean Croke knows a bit about trucking. He logged more than 2 million miles as a long-haul trucker, mostly driving massive road trains loaded with cattle across the unforgiving roads of Australia. He still holds a U.S. CDL.
Today Croke is the principal industry analyst for DAT Freight & Analytics, calling on his 35 years in the business and experience in commercial transportation, data science, supply chain management, risk management, telematics, and human performance to provide market insights for DAT.
He's also an expert on one of the most important parts of a driver's day: sleep. Over the years Croke has also taught truckers and other shift workers about the importance of getting sufficient sleep.
In this edition of The Truckers News Podcast, Croke talks about his own sleep habits when he was a full-time driver, as well as the complexities truckers face when trying to get enough sleep while also trying to meet their delivery schedule and living within federal regulations as dictated by their ELD. He also offers some practical "dos" and "don'ts" on how drivers can get a good night's sleep while on the road.
Our conversation with Croke is presented on this, World Sleep Day, an observance of efforts to ensure people are aware of the fact that sleep is essential to good health.