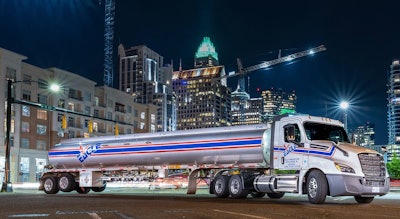 Eagle Transport Corporation
Eagle Transport Corporation, a petroleum and chemical transportation and logistics company based in Rocky Mount, North Carolina, today announced the acquisition of Bulk Carriers, Inc., which is located in Dalton, Georgia.
Founded in 1998, Bulk Carriers has provided dry bulk transportation services to a variety of regional industries. Bulk Carriers has 22 tractors, 34 trailers, and 18 team members.
Lance Collette, president and COO of Eagle Transport said, "Bulk Carriers is a highly-respected leader in the dry bulk logistics market, with a long reputation of service and safety. We are excited to welcome their team into the Eagle family. This acquisition supports our strategy of providing an even greater level of service to our growing list of dry bulk clients."
Eagle Transport said in a statement on its website that it has continued to scale its company footprint, services, and operational capabilities in recent years through a combination of strategic acquisitions and organic growth initiatives.
"We are excited to move into the next phase of high-quality customer service as we merge with Eagle Transport Corporation," said Kevin Brown, president of Bulk Carriers. "Like Bulk Carriers, Eagle Transportation Corporation shares the same passion for offering personalized customer service. We are excited to join the Eagle team and continue to serve our customers for many years to come. We also extend a heartfelt and personal thanks to our dedicated drivers, maintenance crew, and office staff. Without those valued people, our success would not have been possible."
Eagle Transport Corporation provides petroleum and chemical transportation services in the Southeast. With more than 20 terminals strategically located across the region, Eagle has over 500 tractors, 650 trailers, and 800 team members serving key customers in the petroleum and chemical markets.