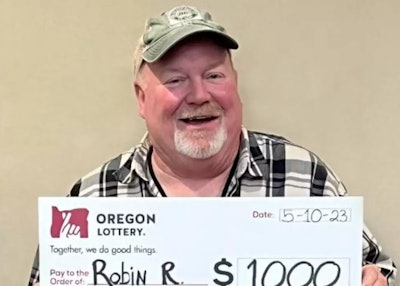 Oregon Lottery
Truck driver Robin Riedel won an Oregon Lottery game that awards him $1,000 per week, for the rest of his life.
The lottery organization said Riedel has played for more than 14 years and finally hit the jackpot on the Win for Life game May 8.
"I hit it. I hit it. I'm hoping to retire in another two to three years," Riedel said.
The lottery office said Riedel has made significant plans for his newfound fortune even though he intends to retire from his regular job in the upcoming years. He said he will use the money to pay bills, make home improvements, and go on vacation to Saint Lucia to mark his wedding anniversary.
Ascend creates Driver Advisory Board
Jackson, Tennessee-based Ascend Trucking recently announced it had created its first driver advisory board.
The truckload dry van carrier said the 12-member panel was drawn from almost 180 nominations. Each member will serve for two years.
In a statement about the advisory panel, Ascend said, "The board will use driver feedback to create the agenda and goals for each monthly virtual meeting and yearly in-person meeting. From these meetings, we'll gather the information we need to bring any challenges directly to the specific department that can provide the best support, allowing us to quickly address any widespread driver concerns. These meetings will also provide a space for open dialogue on safety, company culture, and any new projects."
Members of the advisory board include:
Laura Carter, Brenda Davis
Logan Dodd
Michele Ferguson
Roland Fowler
Chris Haase
Thaddeus Heard
Kraig Hinrichs
Greg Lambert
Rudi Lenssen
Gregory Madison
Orinthius Patrick
Auto transporter certified Great Place to Work
Montway Auto Transport was recently recognized by the Great Place To Work organization. The certification is based on what current employees say about their experience working at Montway Auto Transport. This year, 90% of employees said it's a great place to work – 33 points higher than the average U.S. company, according to a statement from the company.
"We are thrilled to become Great Place to Work-Certified and credit our incredible employees for this achievement," said Montway Auto Transport's Executive Vice President of Human Resources Anne Mitchell. "Our team's dedication to delivering a five-star experience for each customer has been a driving force behind our success. We believe that the key to providing excellent service is ensuring that our employees feel valued and supported in their work. A positive workplace culture helps create a strong sense of teamwork and commitment among employees. We're grateful for our outstanding staff who made this achievement possible and continue to make Montway a great place to work."
Montway Auto Transport, located in Schaumburg, Illinois, transports vehicles for individuals and companies.
ICYMI
Cheaper gas means more Americans on highways for Memorial Day
Pennsylvania carrier breaks ground for new terminal in Laredo, Texas
Freightliner, Western Star trucks recall: electronic stability control issue