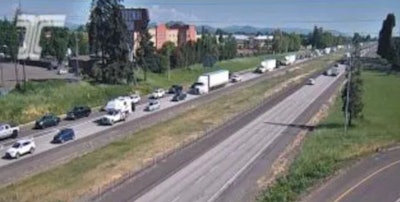 Oregon DOT traffic cam
Seven people died and several others were injured Thursday, May 18 when two tractor-trailers and a passenger van collided on Interstate 5 north of Albany, Oregon.
Oregon State Police say one of the truck drivers involved in the crash was arrested for driving under the influence.
Officials say driver Lincoln Clayton Smith, 52, was traveling northbound and went off the east shoulder of the highway, hitting a Ford Econoline van with 11 passengers inside and pushing the van into another parked vehicle.
Smith, who is from North Highlands, California, was arrested for driving under the influence, reckless driving, seven counts of manslaughter in the second degree, and three counts of assault in the third degree.
Police said the crash occurred at about 2 p.m. in the northbound lanes of I-5 near the Santiam Rest Area, which is between Salem and Eugene.
Part of I-5 north of Albanmy was closed to traffic until about midnight.
Numerous news reports about the crash said it appeared the white Ford van was sandwiched between the two trucks.
The accident remains under investigation.