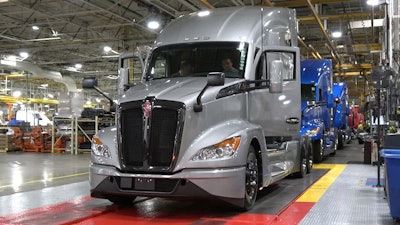 Dan Ramey, Litter Media
A Kenworth T680 Signature Edition with a 76-inch high roof sleeper was delivered May 16 to Heartland Express during a special ceremony at Kenworth's Chillicothe, Ohio plant. The truck represented the 750,000th truck produced by the plant, which opened in 1974.
On hand for the ceremony was Heartland Express' CEO Mike Gerdin, who received the keys to the historic truck from Kevin Baney, Kenworth general manager and PACCAR vice president. Also participating were Jim Walenczak, Kenworth assistant general manager for sales and marketing, Doug VanZuiden, Kenworth Chillicothe plant manager, and Preston Hinkle, MHC Kenworth regional vice president and general manager.
"This is a special year for Kenworth. We're celebrating our 100th anniversary, and our Chillicothe plant met yet another milestone with the production of its 750,000th truck," said Baney. "It's a tribute to all that have worked at this plant over the years since it opened nearly 50 years ago. We couldn't be happier this historic truck is going to a long-time customer like Heartland Express. It's a fleet that began operation just after the Chillicothe plant opened, and it's in its second generation as a family-run business – growing to more than 6,000 trucks."
Heartland Express, a public company based in North Liberty, Iowa, has four trucking companies under its umbrella: Heartland Express, CFI, Millis Transfer, and Smith Transport. The T680 Signature Edition is one of more than 500 T680s Heartland has on order with Kenworth in 2023, through its dealer MHC Kenworth – Cedar Rapids. It's equipped with a PACCAR MX-13 engine rated at 455 horsepower, and PACCAR TX-12 automated transmission.
"We're so excited to receive this Signature Edition Kenworth T680 anniversary truck. The Century Platinum paint job will really stand out from our traditional white Heartland fleet trucks," said Gerdin. "This truck is going to be presented to a special driver shortly and will mean as much to that driver as it does to us. We are so very proud and honored to drive the 750,000th truck out of the Chillicothe plant. The employees here do a great job – they have pride in the quality of the trucks they're building, and you can see their passion."
Schneider opens innovation center
Schneider National Inc. this week opened The Grove, an innovation center the company said is meant to unleash creativity and potential while providing a dedicated collaboration space for its associates and customers.
"The Grove is an investment in breaking down barriers. It's where we will discover untapped potential and unearth solutions, which will drive our company and the larger industry forward," said Schneider President and CEO Mark Rourke. "We are thrilled to finally open our doors at The Grove, and we are excited about what this investment brings to our community. We are helping to put Green Bay on the map as an innovation hub for transportation and logistics."
The 20,000 square-foot facility is located on the campus of Schneider's headquarters in Green Bay, Wisconsin, and houses cutting-edge technologies that will enable teams to further drive transformational innovation across the supply chain and logistics ecosystem.
ICYMI
Here's what veteran truckers would tell next generation of truck drivers
New bill directs DOT to make changes in sagging apprenticeship program
CDL instructor wins Maine college's prestigeous President's Award