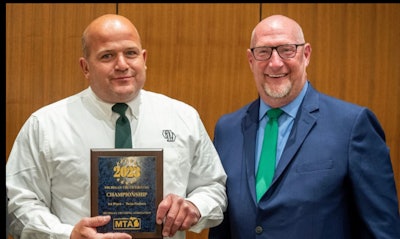 MTA
Drivers for Old Dominion Freight Lines won the grand championship and top rookie titles during the Michigan Trucking Association's annual Truck Driving Championships held last weekend in Lansing.
Chad Williams won the grand champion title and Rudy Gauna was this year's top rookie.
Class winners included:
3 Axle: Rudy Gauna, Old Dominion Freight Lines
4 Axle: Ronald Metternick, FedEx Freight
5 Axle: Roger Lester, Yello
Flatbed: Mark Behr, ABF Freight
Sleeper Berth: Wayne Gootee, Walmart
Straight Truck: Thomas Truskowski, FedEx Freight
Tanker: Daniel Ross, Yello
Twins: Chad Williams, Old Dominion Freight Lines
Step Van: Eric Halchishak, Walmart
Winners in each division go on to the ATA National Trucking Driving Championship held in Columbus, Ohio Aug.16-19.