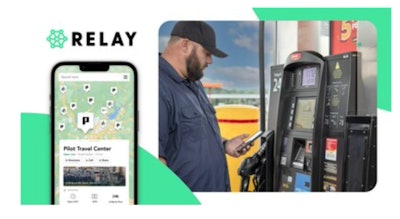 Relay Payments
Earlier this year, drivers for a small western Michigan trucking company began having problems sometimes when they tried to fuel up. They'd stop, say in Indiana, to refuel only to find their fuel card had been turned off because it had been used the day before in Texas, despite the driver not having been in that state.
Amanda Corlew, human resources and safety manager for TransWay, Inc. in Holland, Michigan said 20 of the company's 50 drivers had such problems at the pump. She said it turns out that those drivers were victims of a growing problem for truckers and others: fuel pump skimming, which occurs when a device is surreptitiously installed on a pump and the user's card number is captured and used illegally.
A major fuel theft ring was recently busted in southern Texas and Corlew believes TransWay's drivers may very well have been among its victims.
Fortunately, Corlew said after dealing with the headaches of issuing new fuel cards, sending electronic checks for fuel payment and in some instances having TransWay's president hand-deliver new cards to stranded drivers the company found a solution: Relay Payments. The Atlanta-based company provides an app drivers can use to make secure payments for fuel and other transactions.
Today, Relay announced it is launching its digitized diesel payment platform at more than 800 Pilot Company outlets.
Fleets of all sizes can now use Relay for payments at participating Pilot, Flying J, and One9 Fuel Network travel centers in the U.S., and can continue to leverage their existing savings and direct billing arrangements with Pilot Company on the Relay platform. Carriers also benefit from Relay's robust fraud mitigation measures, contactless technology, transparent fees, and access to Relay's 24/7 U.S.-based customer support.
"We take fraud protection seriously and are always looking for innovative solutions to support the needs of our fleet customers," said David Hughes, senior vice president of sales for Pilot Company. "Digital payment technologies like Relay provide fleets with enhanced anti-fraud capabilities and improve the ease of commercial diesel transactions. We are excited to offer Relay Payments across our extensive travel center network and to bring cutting-edge technologies to the trucking industry."
Relay first introduced its fast, secure digital payment solution in 2019 to make lumper payments and eliminate long delays that forced drivers to wait hours for payment approvals and authorizations.
"Fuel fraud and outdated payment technologies hurt the entire supply chain, costing fleets, merchants, and drivers hundreds of millions of dollars each year," said Relay co-founder and President Spencer Barkoff. "By offering our services at Pilot Company locations, we are able to provide reliability, security, and flexibility for carriers and drivers, all while reducing fraud. We're fortunate to build products that solve the industry's biggest challenges, and we couldn't be more excited to work with Pilot Company to bring these products to millions of drivers."
Barkoff, who describes himself as "a serial entrepreneur", said Relay provides services to over 90,000 carriers of all sizes, covering more than 300,000 drivers.
"We provide 24/7/365 U.S.-Based customer service," said Barkoff. "It's important to be there for these folks doing the toughest jobs."
He said fleets have eagerly adopted Relay's system as it results in instant payment transactions that in turn help maximize drivers' hours of service.
TransWay's Corlew said Relay appears to be the company's long-term solution to drivers making duel and other payments quickly, easily, and safely.
"It's a very easy product to use," said Corlew. " The drivers don't mind logging into the app. It doesn';t take them any additional time, as opposed to using the credit card system that we had before.
"There's peace of mind for us, knowing there's not a fuel card that's going to be skimmed. They're not going to lose their card. They're not going to misplace their card. They always have the app on their phone and we can see everything that they're doing in real time. If we log into Relay's online account, the nice thing is we're still getting our bill direct from Pilot Flying J just like we did before. And the drivers are still getting all of their fuel points that they're earning. There's really no downside that we've seen so far."