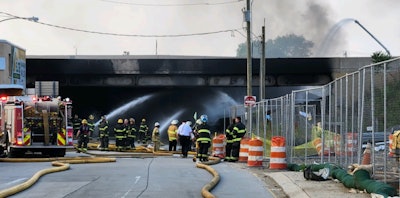 Philadelphia Fire Department
Pennsylvania State Police have confirmed that a body has been removed from the tanker truck that crashed and caught fire under an Interstate 95 bridge in Philadelphia Sunday shutting down traffic in both directions between exits 30 and 32.
Authorities have not officially identified the body, but several Philadelphia news outlets have reported 53-year-old Nathan Moody was driving the tanker that crashed Sunday morning causing a fire that led to the collapse of a northbound I-95 bridge and heavily damaged the southbound lanes.
In other news, Transportation Secretary Pete Buttigieg was scheduled to visit the site of the bridge collapse, meet with government officials and address the media.
RELATED NEWS: Section of I-95 in Philadelphia to be closed for months following fire
Pennsylvania Department of Transportation officials said crews have been working around the clock to remove the debris from the collapsed northbound lanes. They also said the southbound lanes were also so severely damaged that they too will have to be removed and replaced.
No timeline has been set for the project, but officials have said it will take months before traffic can be restored to normal along the heavily-traveled section of this key freight corridor.