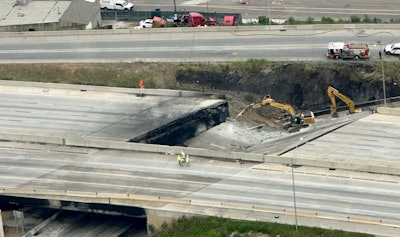 Pennsylvania State Police
Officials in Pennsylvania now say the rebuilding of an Interstate 95 bridge in Philadelphia will take months and not weeks as originally projected, causing significant disruption for freight carriers and local commuters.
Gov. Josh Shapiro was expected to issue a disaster declaration this morning allowing the state to access federal funds to repair the bridge that was heavily damaged Sunday morning, June 11, when a tanker truck caught fire and exploded under the bridge in Northeast Philadelphia. A more exact timeline for the complete rebuilding of the I-95 roadway should be available in the coming days once the engineers complete their review, according to the Pennsylvania Department of Transportation.
I-95 is closed between the Woodhaven and Aramingo exits. Truckers can expect to see warnings on electronic message signs well in advance of the closed section of the interstate.
Human remains have been recovered from the crash site, but authorities have not released the identity of the person.
The Pennsylvania Trucking Association is keeping close tabs on the progress at the site of the fire and bridge collapse and is trying to find ways around the closed section if I-95 for truckers.
"We have been in constant contact with PennDOT and other state agencies to find a better solution for drivers," said Megan Magensky, director of communications for the association. "So far, we haven't had much feedback from our drivers and members because we have an email alert system to keep them up to date. We put out multiple alerts yesterday as we learned about updates.
"We will keep our members updated throughout the process. Obviously, this is not an ideal situation for our members and will have a huge impact on the transportation industry."
"Interstate 95 is a critical artery that supports our economy and plays an important role in Pennsylvanians' day-to-day lives. My administration is all hands on deck to repair this safely and as efficiently as possible," said Shapiro on Sunday. "We will rebuild and recover – and in the meantime, we will make sure people can get to where they need to go safely."
Shapiro said Transportation Secretary Pete Buttigieg assured him that "whatever will be needed to rebuild I-95 and in a safe and expeditious manner will be provided,"
"This is a major artery for people and goods, and the closure will have significant impacts on the city and region until reconstruction and recovery are complete," Buttigieg said on Twitter. "Our department will be there with support throughout the process of I-95 returning to normal."
PennDOT estimates 160,000 vehicles travel over the affected stretch of I-95 each day.
The National Transportation Safety Board is sending a team to investigate the incident.
PennDOT suggests these detours:
Northbound:
Take I-676 west to I-76 west.
Take Exit 304B for U.S. 1/Roosevelt Boulevard north.
Go to Woodhaven Road/Route 63 exit and head east, which will take you to I-95 north of the collapse.
Southbound:
Take Exit I-95 onto Route 63/Woodhaven Road to U.S. 1/Roosevelt Boulevard south.
Get on I-76 east, take to I-676 east and then merge onto I-95 southbound.