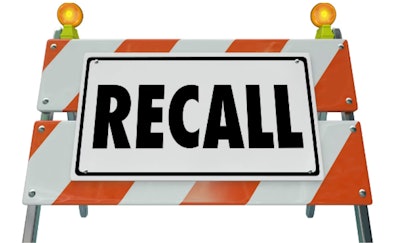 Navistar is recalling more than 6,700 International trucks and IC Bus models for an issue with the brake pressure switch assembly, which may leak brake fluid into the brake pressure switch's electrical components and cause an electrical short-circuit, increasing the risk of a fire.
National Highway Traffic Safety Administration documents note that an electrical short in the brake pressure switch can overheat the circuit and increase the risk of a fire while driving or parked.
Affected units include:
2019-'24 International MV
2016 International DuraStar
2018-'20 and 2023-'24 International 1300FBC stripped chassis
2019-'22 IC Bus CE
2019-'24 IC Bus TC
Owners are advised to park outside and away from structures until the recall repair is complete. Dealers will replace the brake pressure switch and, if necessary, the wire harness or fuse, free of charge.
Owner notification letters are expected to be mailed Aug. 1. Owners may contact Navistar's customer service at 800-448-7825 with recall number 23517. NHTSA's recall number is 23V-397.
Oregon skills competition marred by drive-by shooting
The Oregon Trucking Association's annual skills competition held last weekend in Portland was interrupted by a drive-by shooting.
Organizers told Willamette Week an occupant of a purple Dodge Challenger fired six shots as they sped by the Old Dominion Freight Lines terminal where the competition was being held. No one was injured.
Following the shooting, the remainder of the competition was moved to another location at the terminal and completed.
ICYMI
Section of I-95 in Philadelphia to be closed for months following fire
Truett and Crystal Novosad's 2007 Peterbilt 379 is SuperRigs top truck
FedEx Freight driver wins Virginia truck driving championship