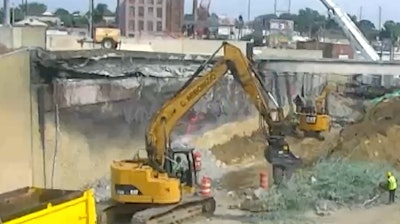 PennDOT
The Pennsylvanian Department of Transportation has changed one of the detours in place to deal with the closing of a section of Interstate 95 in Philadelphia.
I-95 remains closed in both directions from Exit 22 to Exit 35 following the crash of a tanker truck and fire Sunday, June 11. The fire destroyed the northbound lanes of a bridge and damaged the southbound lanes. The driver died in the crash.
PennDOT has updated detour information for drivers heading southbound. They now recommend using Exit 30 to go right on Bleigh Ave. to a left on State Road (SR) 1007 with reentry to I-95 South at Longshore Avenue.
The northbound detour remains the same: Use Exit 22 to I-676 WB to I-76 WB to US 1 NB to PA 63 EB to I-95 NB.
RELATED NEWS: Plan to rebuild destroyed section of I-95 revealed; no finish date set
Pennsylvania Gov. Josh Shapiro said Wednesday that demolition of the southbound portion of the bridge would be completed today. Work is also set to begin on reopening I-95.
The plan calls for using recycled glass aggregate would be used to fill the gap in the interstate. Three lanes in each direction would be paved over the fill, and permanent bridges in each direction would be built. The first loads of the fill were due to arrive at the site today.
Shapiro did not offer a timeline for the completion of the project and reopening of the temporary lanes. Nor, did he say how much the project would cost.
You can follow work at the I-95 construction site on this 24/7 live webcam.